Developing commissioning plans and business strategy
Our services
Developing and/or support with commissioning plans
Providing support and assistance to ensure commissioning is citizen-focussed
Developing and support with housing and supported accommodation delivery programmes
Application of evidence of contemporary housing design and delivery in commissioning plans

Developing a Specialist and Supported Accommodation strategy
Client
Our role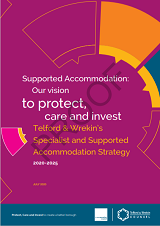 Developing with the Council a Specialist and Supported Accommodation strategy (opens new window)
Objectives
The Council wants to ensure that there is a sufficiency of appropriate and good quality housing to meet the needs of the growing numbers of older people, vulnerable working age adults and young people in the borough.
Having a range of high quality specialist and supported accommodation is an essential part of delivering the Council's commitments to protect and support its most vulnerable adults and children and to support communities and those most in need.
Impact
A wider range of supported accommodation that enables adults and young people to live independently in their communities.
An increase in housing suited to older residents, including access to support and assistance to remain living in their own homes and access to a wider range of high quality specialist accommodation that is suited to ageing well in later life.
Reducing homelessness through the provision of high quality supported accommodation and 'move on' housing opportunities.
Stimulating the development of additional accessible and adapted housing that is suited to adults and children with physical disabilities and long term health conditions.