Video: What is Extra Care Housing?
We spoke to professionals and residents of Extra Care Housing around the country about their experience of Extra Care, and the different ways in which it can improve wellbeing and quality of live for people as they get older.
Key Sections
Key Resources

Going Digital
How commissioners can provide "Living Better for Less" to deliver services supported by technology-enabled housing.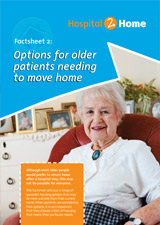 Hospital 2 Home Resource Pack
Essential information for all the professional sectors that have a role in hospital discharge for older people in England.