With thanks to our partners, we have been able to extend our presence and provide these dedicated online resources on housing an ageing population in Wales. Scroll down the left-hand menu to access a range of key documents we have collated on housing for older people in Wales.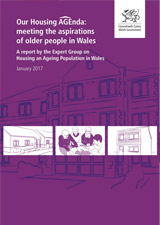 We were also delighted to be invited to be a member and an advisor to the Welsh Government's Expert Group on Housing and Ageing Population. The Group's final report, 'Our Housing AGEnda: Meeting the aspirations of older people in Wales', was published in February 2017. Further information on the Expert Group's Terms of Reference can be found here (opens new window).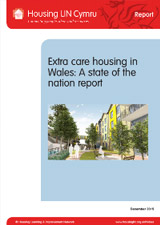 The Welsh Government's latest annual returns on social housing across all 22 councils in Wales (opens new window) (published in November 2023) show that local authorities and housing associations own 25,249 sheltered housing units, 2,697 units of extra care housing, and there are a further 4,900 units of supported housing in Wales (Welsh Government, 2023).
As outlined in our State of the Nation report, with a rapidly ageing population in Wales and pressure on capital funding to deliver housing with care for older people at scale there is a growing need for public and professional awareness around enhanced housing with care solutions, such as extra care housing, in order to make the case and tailor appropriate local solutions that meet the needs and aspirations of older people.
This has been further reinforced by tri-nation report, 'Housing and Ageing: Linking strategy to future delivery for Scotland, Wales and England 2030', undertaken by the University of Stirling (2019). And, most recently, the Welsh Government published the independent assessment of the demand for specialist housing and accommodation needs of older people up to 2035 (opens new window) carried out by the Housing LIN (2020).

Housing LIN Cymru are also pleased to be a signatory to the Design Commission for Wales' Placemaking Wales Charter.

To maintain these webpages and sustain our free learning and improvement activities in Wales we are wholly dependent on crowdfunding and the financial support of members of our Housing LIN Cymru Steering Group. We do not charge a membership fee or receive any grant funding. However, if you would like to become one of a select number of Housing LIN Cymru sponsors exclusively associated with these webpages, you can find out more here or email us at cymru@housinglin.org.uk (opens new window) for details.