Our Housing AGEnda: Meeting the aspirations of older people in Wales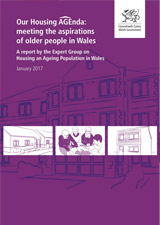 This report by the Welsh Government's Expert Group on Housing an Ageing Population is the result of a year-long examination of the issues and sets out a selection of recommendations to inform the Welsh Government's policy approach to housing an ageing population and a series of practical steps which can be taken to ensure that housing becomes a prominent element of the ambition to make Wales a great place in which to grow old. Key priorities identified include:
A better understanding of the housing preferences and choices of older people through integrated assessment
Different stakeholders need to stimulate the market, creating demand with innovative solutions providing choice for older people
Closer integration between housing and health and social care is needed
Individuals need to plan for their housing requirements in later life
Designers should recognise older people in what they design
Planning should prioritise older people
Financial incentives are important to stimulate the market and enable creative solutions to be adopted
Access to information, support and advice is crucial. People need information to help them make the right housing choices at the right time and in the right way, and
Technology, community equipment, aids and adaptations can transform the way people live - enabling people to live independent and fulfilling lives for longer. We need to find ways of identifying these opportunities and be open to innovation.
Further information on the Expert Group's Terms of Reference can be found here (opens new window).