On these pages we capture research findings and good practice examples on housing with care matters in Wales, including extra care housing. For useful Housing LIN Case Studies, visit Useful Case Studies.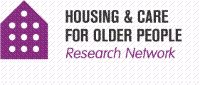 Members may also be interested in looking at the Housing and Care for Older People Research Network (HCOPRN) and/or contributions of other relevant research either published or underway in Wales for inclusion. In addition, for information on other housing research taking place in Wales, read the latest e-briefing from the Wales Housing Research Network (WHRN).
Research reports
The following research looks specifically at extra care housing in Wales:
Good practice papers
In this section, we offer a selection of existing papers, briefings and other materials that showcase example of practice in developing innovative new housing for older people in Wales, as well as make best use of existing stock.
Other tools
We are looking to adapt the ADASS/Housing LIN Strategic Housing for Older People (SHOP) Resource Pack and accompanying Analysis Tool (SHOP@) for our Welsh Housing LIN members. We will notify you of developments.
In the meantime, see our background information about SHOP and how the resources are being used in England (opens new window). The Housing LIN and Elderly Accommodation are looking to develop a similar online tool for commissioners and developers in Wales. For a free consultation, email: SHOP@housinglin.org.uk