Knowledge & Innovation Sessions - 12.10 to 13.00
Speakers - Moya Jones, Engie Sales Director and Tony Markham, MD T2 design, Keepmoat
Moya Jones Engie Sales Director and Tony Markham MD T2 design will demonstrate the Canvas Lifestyle home and services configurator. You will experience how our Customers use the technology to create a bespoke home for their individual needs.
---
Speakers - Emma Hester Senior Interior Designer & Sara Celentano, Senior Sustainability Consultant, PRP
"The more designers, clients and other members of project teams learn about how their buildings perform in use, the better their next buildings are likely to meet the complex needs of the clients and occupants – completing a virtuous circle of learning." RIBA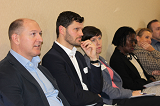 PRP has delivered an extensive number of independent living schemes for older people, and within this session will look at the benefits of post occupancy evaluation for all involved.
The session will focus on key case studies such as Farrow Court to demonstrate how these evaluations, done well, can assist in maximising overall building performance, resident wellbeing, and user-friendliness for residents and staff whilst also enabling best practice in future projects, by revisiting and learning from previous buildings.
---
Speakers - Shirley Hall, Well-being and Community Manager, ExtraCare Charitable Trust
ExtraCare's Well-being Service supports residents to improve their health and well-being. Residents have a comprehensive assessment before moving into one of our retirement communities. They are also assessed annually and offered informal 'drop in' sessions. Aston University was commissioned to evaluate the effects of the integrated approach on health and well-being, cognition, social functioning and independence over time. A frailty tool was developed to use as part of the research, which has now been incorporated into a Well-being App (tablet based). This tool has been piloted and now integrated into all assessments. This enables prediction of a resident's 'resilience' and personal goal setting. This workshop will explore what the data means for residents and the charity.
---
Speakers - Sue Rugg, Faithful+Gould, Clare Cameron PRP Architects and Diane Celella Drawing Room Interiors
Faithful+Gould, PRP architects and Drawing Room Interiors will share the journey so far in to how Joseph Rowntree Housing Trust has addressed the growing demand for flexible, high quality care services in the existing garden village of New Earswick.
We will look at how Joseph Rowntree Housing Trust and the professional team have worked together to deliver positive changes to the New Earswick village from the integration of a new 105 bed extra care and 45 bed care home to the refurbishment of the community Folk Hall to create a new eatery and Explore library, relocation of the multi use games area, new tennis courts and new play and leisure facilities in the village.
---
Speakers - Tony Walker, Commercial Director, Tunstall Healthcare (UK) Ltd and Loraine Simpson, Head of Technology Enabled Care and Support Services, Progress Housing Group
Discover a new approach to integrated care, using technology as a platform to generate efficiencies through prevention and co-ordinated care delivery.
Lancashire County Council (LCC) is working in partnership with Tunstall Healthcare and Progress Housing Group, to make much greater use of telecare services in Lancashire, as part of its commitment to preventing, reducing or delaying the need for health and care services and improving people's outcomes and quality of life. The countywide service is now supporting over 7,500 people.
This session will explore how this innovative, new model of care was planned and implemented, and reveal the latest results.
---
Speakers - John Sneddon, Managing Director and Iain Warner, Director, Tetlow King Planning
Many care schemes face a number of hurdles through the planning system, and delivery is not meeting demand. Tetlow King Planning work with many developers from private and public sectors to guide their proposals through the planning system to a successful grant of planning permission.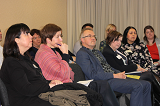 This session will focus on recent developments in the national planning system, including the proposed Government changes to the National Planning Policy Framework issued this month and what it lacks in planning for Older People. We will also consider the important implications of CIL on care developments. Following on from the CLG Select Committee on Older People we will unpack the Report 'Housing for Older People's Needs' (February 2018) and the anticipated changes to the Use Class system. The session will conclude on how these changes will affect planning applications for care schemes throughout the country.
---
Speakers - Siobhan Ryder, Willmott Dixon & Graham Locke, PRP & Rodger Cairns, Trafford Housing Trust
Please see below a range of questions which can form the basis of our informal Q&A slot.
Why was Limelight selected as the flagship project in kick-starting the Old Trafford Master Plan
What were the key principles and outcomes of the care and community offering
Have we achieved the aspirations as set out in the design feasibility
Have the social value aspirations been met and how are we seeing this being evidenced in the local community
How might we have done things differently in terms of design and construction
What is the view from residents living in the extra care apartments
How did the team deal with the multitude of design features and finishes on the building
Why were the apartments constructed in prefabricated LGS and community hub/gp surgery constructed in Metsec LWSF
---
Speakers - Jenny Pannell, Housing LIN Associate and Charlotte Cook, Partner, Winckworth Sherwood LLP
This inter-active session will draw on our new PRS Briefing 3. We will look at what has changed since our sessions in 2014 and 2017, discussing market rent offers in later life housing, local authority initiatives and Build to Rent for inclusive communities. Who is investing and developing for this market? Who are the new players? How have the opportunities - and barriers - changed?
---
Speakers - Anna Kear, Executive Director, UK Cohousing and Jamie Hartzell, Development Director, Tonic Housing Ltd
How can we create more diverse housing choices that better reflect the way older people want to live? This session will present the work of two powerful and innovative approaches, one in LGBT centred extra care and the other in Cohousing. We will discuss the challenges we face in breaking the mould, how we are overcoming these and the potential learning we offer the mainstream.
The session also includes two short films - Senior Cohousing: A different way of living and Tonic: A Fresh Approach to LGBT Older Living.