Knowledge & Innovation Sessions - 14.10 to 15.00
Speakers - Jacob Snellings, Business Development Director, ENGIE - UK & Ireland
Combining services, energy and technology to support well being and an affordable healthy lifestyle. Engie will demonstrate how combining Services, Energy and Technology they are supporting customers to have a healthy and sustainable lifestyle. Preventive solutions which connect housing, health and social care services to communities.
---
Speakers - Tom Scaife, Partner, Knight Frank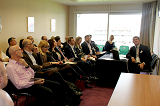 Hopefully everyone by now is aware that the UK's population is aging and there is a need for specialist housing for older people.
This workshop examines some of the data behind the headline, with the aim of better understanding the requirements for older persons housing.
---
Speakers - Lex Cumber, Business Development Director, Castleoak
This talk considers some of the threats and opportunities crystalizing in our sector as a result of uncomfortable realities on the ground, and technological progress and acceleration. What are operators, consultants and developers doing, and more importantly, what are they not doing? This talk explores the future impact of technology and tries to chart what some of the outcomes are likely to be? This talk requires audience participation.
---
Speakers - James McCarthy, Director of Retirement Housing & Vanessa Pritchard-Wilkes, Head of Strategic Engagement
In the first part of the session, James will consider how the analogue technology that has been used for call systems has become out of date when compared to the technology that many people carry in their pockets, handbags or on their wrists. James will explain the digital technology that is being installed in Housing & Care 21 and the advantages of this.
Vanessa will then present the work which Housing & Care 21 are doing to become a dementia-friendly organisation. This will be followed by a presentation by the Mental Health Foundation on their peer to peer work in supporting residents living with dementia or at risk of social isolation.
---
Speakers - Clare Skidmore, Strategic Lead, Housing LIN and Kurshida Mirza, East Midlands Regional Ambassador, Housing LIN, Jabeer Butt, Race Equality Foundation
A review of the evidence in terms of older people from BME communities and the likely issues and challenges they face
An overview on the real gaps in evidence
Some examples of good practice in this area
An opportunity for a real debate, offering delegates a chance to shape the Housing LIN's work on this going forward
---
Speakers – Wendy Wells, Head of Policy and Business Implementation and Manuela Gruse, Retirement Living Manager
Guinness have over 65,000 properties in the UK and provide housing and care services to over 120,000 customers. Our largest group of customers are those aged over 66 and therefore it has been vital to offer services that assist these customers in remaining safe at home. The mobile support service offers a combination of technology, wellbeing visits and home safety checks and has been successfully running for almost a decade in and around the Cheshire area. Find out how we set the service up, how it funds itself and how we intend to innovate to meet the changing needs of our customers.
---
Speakers – Dr Robin Darton, University of Kent, Canterbury; & Dr Simon Evans, University of Worcester
The ECHO project explored the provision and delivery of adult social care in extra care housing in two local authorities in England, and focused on how providers and commissioners responded to changing needs among residents. In-depth interviews were conducted in four extra care schemes, one of which was a specialist dementia care provider. This workshop will examine how the schemes supported residents living with dementia, and will then discuss the response of commissioners to changes in care needs and to broader developments in the provision of housing and social care. The session will include selections from the new ECHO project YouTube films (part of the Housing LIN 'Spotlight on Extra Care' video series).
---
Speakers - Russell Gay, Director, Urban Edge Architecture & Sonia Parol, Associate Director, Urban Edge Architecture
This question poses unique challenges and demands original thinking. We must take into account an individual's independence, quality of life and care requirements, balanced against their personal finances and that of the public sector.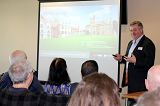 Should senior living, which meets the demands of age 65+ residents, be provided within our towns and cities as well as villages and rural locations? The social, cultural and intergenerational benefits that come with living in an urban environment should be enjoyed by all ages.
Is there an opportunity for the aged 65+ group to significantly contribute to the positive experience of life in the city? This is something that should prove a crucial design driver for architects and urbanists over the coming decades.
---
Speakers - Tayo Bilewu, Business Development Executive, Funding Affordable Homes & John Taylor, Chief Operating Officer, Mears Group PLC & Jonny Wrigley, Managing Director, HB Villages
The case for increasing the range of housing options for the bourgeoning UK population of older people is well-documented. The significant shortage of integrated housing with care options to meet the considerable demand of those in social need represents a major challenge for local authorities with budget constraints. Based on recent examples, the workshop demonstrates how social impact investing is delivering both high quality accommodation for older people and generating cost savings for central and local government.