Extra Care Housing Conference - 'An IdeasFest: A Fresh Look at Housing for All Ages'

The Housing LIN's 7th annual conference took place on Friday, 23th March 2018 at the KIA Oval, London
Over 300 delegates celebrated the Housing LIN's 7th annual conference at the KIA Oval. This year, the event was chaired by award-winning editor Emma Maier of Inside Housing fame.
Drawing on the Housing LIN's core values – learning,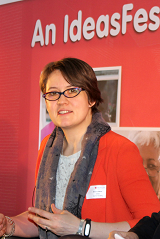 improvement and networking – Emma explained that the focus of the day was to help stimulate the thinking, identify innovative practice and provide an opportunity to share ideas that may lead to new partnerships, service improvements, exciting innovations or additional investment in the sector and, above all, a catalyst for new collaborative approaches to housing for all ages.
Emma highlighted that:
Emma then thanked each of the sponsors, explaining that without their generous support, the Housing LIN couldn't continue to offer free events: The headline sponsors were: Engie and Urban Edge Architecture along with associate sponsors in alphabetical order: Castleoak, ExtraCare Charitable Trust, Faithful+Gould, Funding Affordable Homes, Guinness Partnership, Housing & Care 21, Knight Frank, PRP Architects, Tunstall Healthcare, Willmott Dixon and Winckworth Sherwood solicitors.
To find out what people said about the conference, check comments posted on twitter at #HLINconf18 (opens new window).

Keynote addresses
The keynote speaker line-up was:
Geeta Nanda OBE, Chief Executive, Metropolitan Housing: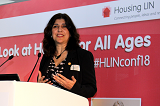 Professor Jeremy Myerson, Oxford Institute of Population Ageing
:
Helen Hayes MP, Housing, Communities & Local Government Select Committee: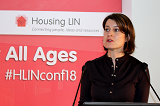 Dr Bill Thomas, The Green House Project, ChangingAging USA: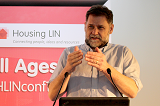 There were also two lively panel debates chaired by Emma Maier and Jeremy Porteus, Housing LIN Managing Director respectively. A big thank you to our supporters and sponsors.
In Conversation' Sessions
1st 'In Conversation' session: Placeshaping - investing in our homes and communities
Chair:
Emma Maier, Editor, Inside Housing
Panellists:
Paula Broadbent, Retirement Housing Solutions, Engie
Tayo Bilewu, Funding Affordable Homes
Kris Peach, Housing & Care 21
David Tunney, ExtraCare Charitable Trust resident
Innovation Sessions
2nd 'In Conversation' session: Market shaping: New collaborative models of housing & care for later life living
Chair:
Jeremy Porteus, Housing LIN
Panellists:
Honor Barratt, Birchgrove Life
Sarah Mckee, Evermore
Ruby Smith, South Yorkshire Housing
Will Wimshurst, Wimshurst Pelleriti architects
Closing remarks from Jeremy Porteus, Director, Housing LIN
"Before I draw today to a close and offer my sincere thanks to all those who have made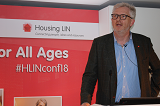 this conference possible, I would like to briefly say a few words about the Housing LIN and share with you some of our remarkable achievements in 2017/18 and to take a quick tour of what's on the horizon this year.
As you all know, the Housing LIN has become the "go to" network for a growing number of housing, health and social care professionals in England and Wales. Over the past 12 months, we have strengthened our team and I am delighted to welcome Clare Skidmore and Ian Copeman to support our strategic influencing and new business activities. This has boosted our modest capacity and, along with our regional leads and associates, we have been actively engaged on a number of fronts. Our highlights include:
Giving oral evidence to the CLG Select Committee on Housing for Older People Helen talked about, which reported earlier this year.
Working for Lord Best's All Party Parliamentary Group on Housing and Care for Older People on Housing our Ageing Population: Preserving Independence, or HAPPI4, with a particular emphasis on rural housing issues experienced by older people. This is due to report at the end of April.
Working with the Royal College of Occupational Therapists to engage with industry experts and help update their publication Minor Adaptations without Delay.
Being appointed by the Royal Institute of British Architects to co-author (with Julia Park one of the original HAPPI authors) a new publication on age-friendly housing as part of their Futures series. This is due for release by RIBA this July.
Supporting knowledge exchange as a non-academic, participating in a variety of influential research projects, including the ECHO project (with the Universities of Bristol, Worcester, Kent), the ODESSA report (with the University of Sheffield school of architecture, 2 French and a Chinese University), and supporting the UTOPIA project at King's College London undertake a critical review of the how local authorities have adopted the telecare lessons from the government's Whole System Demonstrator sites. All these university-led research reports can be found on our webpages.
And on the wider transformation front, working with NHS England and several local health and social care economies on their Transforming Care Partnership programmes to widen the housing options for people with a learning disability or autism. This is an extremely challenging environment to work in, with safeguarding and mental capacity issues affecting many people in long term institutional care.
And in Wales and Scotland, building on our involvement with the Welsh Government's expert group, we held our first ever Symposium last year in Wales and now looking to strengthen our Housing LIN Cymru and Scottish presence alongside partners this coming year.
Using our Strategic Housing for Older People Analysis Tool (or SHOP@) we have undertaken several strategic reviews for local authorities, social and commercial operators, and trade and professional bodies. For example, following the launch of the Local Government Association's influential report on housing an ageing population last year, we have been working with them and a select number of councils and partners to develop a more coherent and diverse housing offer for their older citizens. This includes HAPPI inspired homes, cohousing, community-led housing and exploring new market housing opportunities, such as PRS.
And as recently announced, the Housing LIN will be part of the consortia led by the TCPA supporting knowledge transfer with the NHS England Healthy New Towns initiative. More on this in the coming weeks.
And lastly, while this annual conference attracts 300 people, you may be surprised to learn more that 10 times that number attend our local meetings and influential regional events throughout England and Wales, and hopefully Scotland soon. A big thank you to all our regional leads for organising and speakers, and our sponsors for making these possible too."
A big thank you to our supporters and sponsors!
Main Sponsors: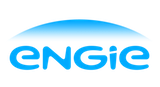 Affiliated Sponsors: