Extra Care Housing Conference - 'Housing Cares: A Festival of Ideas'

The Housing LIN's 6th annual conference, 'Housing Cares: A Festival of Ideas', took place on Friday, 24th March 2017 at the KIA Oval, London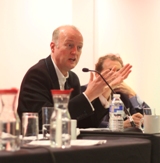 Over 300 delegates celebrated the Housing LIN's 6th annual conference at the KIA Oval. Chaired by BBC's Shaun Ley, 'Housing Cares: A Festival of Ideas' also saw the launch of the Alzheimers Society's dementia-friendly housing charter.
The conference sought fresh ideas on scalable and innovative market solutions for later life housing, including a call for an increased range of tenures choices, digital and financing options.
The keynote speaker line-up was:
James Murray, Deputy Mayor of London for Housing
Dawn Austwick, The Big Lottery Fund's CEO
Dr Nigel Wilson, Legal & General's Group CEO
Paul Watson, Guinness Care's Managing Director; and
Candice Imison, The Nuffield Trust's Policy Director.
There were also two lively panel debates chaired by Paula Broadbent, Keepmoat, and Steve Skuse, Willmott Partnership Homes.
Shaun thanked each of the sponsors, explaining that without their generous support, the Housing LIN couldn't continue to offer free events. The headline sponsors were: Keepmoat, Legal & General and Willmott Partnership Homes along with the Elderly Accommodation Counsel, the ExtraCare Charitable Trust, Faithful+Gould, Guinness Care, Housing & Care 21, Knight Frank, PRP Architects, Tunstall Healthcare, and Winckworth Sherwood solicitors. A big thank you to our supporters and sponsors!

To find out what people said about the conference, check comments posted on twitter at #HLINconf2017 (opens new window) and #HLINconf17 (opens new window)
Keynote Address ppts:
Closing remarks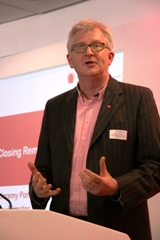 Jeremy Porteus, Managing Director of the Housing LIN reflected on today's proceedings, and was struck that housing definitely cares and is full of creative ideas, looking for imaginative solutions, especially with the launch of the Dementia-friendly housing charter.
On the revenue side of things, he pointed out that he is aware of the pressures that both commissioners and operators are under and the knock on effect for those involved in the design and build of new extra care housing schemes. The government's welfare reform plans, especially the proposals for the future of funding of supported housing have knocked sector confidence. In his view, the proposed LHA cap has put development back by two years. And, as was mentioned by Shaun Ley, health and adult social care commissioners are experiencing unprecedented demands on their budgets. With a Social Care Green Paper and a Housing Bill expected this autumn, Jeremy explained that the Housing LIN will be working with partners to influence both the revenue and future capital investment streams.
Jeremy also highlighted other areas of work that the Housing LIN has been actively involved in 2016/17. For example:
He referenced the work of HAPPI, and his involvement in writing HAPPI3 and the promotion of the HAPPI design principles. Following on from this, the Housing LIN is now working with the Royal Institute of British Architects to co-author a new publication on housing for older people as part of their Futures series.
On the research front, he pointed to a number of research projects such as: the ECHO project (with the Universities of Bristol, Worcester, Kent); the DWELL report (with the University of Sheffield school of architecture); and the assistive technology UTOPIA project at King's College London.
Staying with technology, he referred to the work with Tunstall, Appello and others on a series of White Papers and though-leadership on housing and telecare digital transformation in the sector.
On the wider transformation front, he referenced NHS England's programme and Health and Housing Quick Guide, aimed at local getting housing better recognised across the 44 Sustainability and Transformation Plans in England and also unlocking surplus NHS land for housing development.
For those of people working in supported housing or independent living for people with complex needs, he drew attention to another piece of work commissioned by NHS England to provide housing insight to their regional Transforming Care Partnership teams in helping them to develop the strategic housing options for people with a learning disability.
And in Wales, he highlighted the work of the Welsh Government's Expert Group on Housing an Ageing Population which set out an ambition for an age-friendly Wales where later life housing for older people is a core component of rebuilding existing communities and widening the housing choices of older people in Wales,
He signposted to the Strategic Housing for Older People Analysis Tool (or SHOP@) and supporting the Local Government Association capture the learning and improvement from those authorities that are leading the way on housing and ageing; building the evidence base on how housing associations can delay transfers of care from the acute to community settings for the National Housing Federation; and carrying out service and scheme reviews, including our partnership with OTs.
And, while this annual conference attracts 300 people, he pointed out that 10 times that number attend our local meetings and influential regional events throughout England, including Leadership Sets in the South West, North West and Yorkshire and Humber. He expressed his thanks to all our regional leads for organising, speakers and sponsors for making these possible too.
Finally, he thanked and named all the sponsors for their generous support and pointed out that this enables the Housing LIN to organise this free event and celebrate all that's best in the sector. He thanked Shaun for chairing the morning's session and setting the right tone for the event.
Jeremy concluded by thanking everyone for making the conference such a success and singled out Jerome Billeter, Suzanne, Lois, Viv and Hugh who have worked tirelessly behind the scenes.
A big thank you to our supporters and sponsors!