Dementia Friendly Housing Charter: A guidance toolkit for a dementia-friendly approach to housing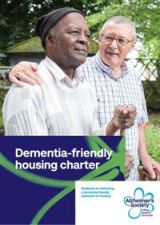 Launched at the Housing LIN 2017 annual conference, this Dementia-Friendly Housing Charter is aimed at the full range of housing sector professionals across all tenures, ranging from planners and architects to landlords and developers, housing managers and handypersons.
It aims to help professionals in their support of people living with dementia in their homes and facilitate consistency and good practice.
In particular, the Dementia-Friendly Housing Charter aims to:
Equip housing sector professionals with information and additional resources aimed at improving knowledge and understanding of dementia so that they work in a way that minimises risks and enhances wellbeing for people living with dementia.
Explain how and why housing and housing related services can improve the lives of those living with dementia, and their families and carers; and
Encourage organisations to make or improve existing action plans in order to future proof their organisations and services, and sign up to deliver a number of the Commitment Statements within the Charter.
Supported by the Housing LIN, the Dementia-Friendly Housing Charter contains commitments that we encourage organisations to sign up to. By committing to the Charter organisations will publicly announce their agreement to deliver on a number of Charter commitment statements that are most relevant to them.
This report has now been replaced by the 2020 Dementia-friendly housing guide.