Housing LIN Annual Conference 2019
'Homes for Our Age: An IdeasFest'
This year's conference, which took place on 20th March at Edgbaston Cricket Ground in Birmingham, was themed 'Homes for Our Age' and featured contributors from the private sector, housing associations, the public sector, and charitable organisations. All speakers focussed on what needs to be done to make sure that our ageing population has housing that is fit for purpose at every stage of their lives.
To find out what people were saying about the conference, look for tweets with the #HLINconf19 (opens new window) hashtag.
Chair - Emma Maier, Ocean Media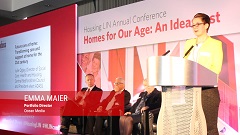 We were delighted that Emma Maier, for the 2nd year running, was able to take time out of her busy schedule to chair our event. She has recently taken on the role of portfolio director for Ocean Media, Inside Housing's publishers.
Emma began her speech by saying:
"Our speakers will address the strategic and operational role that housing plays to shape local communities, provide better designed, more integrated and more personalised care, and respond to the changing needs and aspirations as we age".
Emma also noted:
That while the government was struggling to assess the impact of Brexit, it was also dragging its feet over the publication of the Social Care Green Paper.
The Guardian has reported that over 100 care homes operators went out of business in 2018, bringing the 5-year total to more than 400.
Housing with care needs to ensure that such risks are mitigated, whether they are due to funding issues, or to larger policy issues such as Brexit.
The Housing LIN has called for sustainable capital and revenue funding solutions, and is working closely with several members to develop viable models of care and support to demonstrate their cost-effectiveness and create an attractive offer for residents.
Health and wellbeing gains in local care economies have been highlighted in a new research report by Lancaster and Aston Universities for the ExtraCare Charitable Trust. 'Integrated Homes, Care and Support: Measurable Outcomes for Healthy Ageing' provides robust data to back up that their residents are healthier, both physically and mentally, as a result of living within retirement communities.
Emma also thanked each of our sponsors, explaining that without their generous support, the Housing LIN couldn't continue to offer free events.
Keynote speakers
Closing remarks – Jeremy Porteus, Housing LIN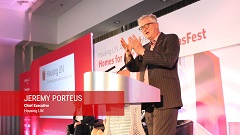 Jeremy began his speech by saying:
"When reflecting on today's proceedings, I am struck that our sector is full of innovative ideas and imaginative solutions, and the Housing LIN is privileged to be at the heart of sharing these inspirational achievements and latest findings with you - both today, and via our both our regular notifications, whether email alerts, weekly bulletins or tweets and regional learning meetings and roundtable events."
Jeremy also said:
"As Julie highlighted this morning, following our work with Central Bedfordshire Council, we have published a new guide on adopting age-friendly approaches in generating community-led housing, and today we released our final YouTube video in our Making Extra Care go viral series which puts the spotlight on the future of extra care housing. I hope you managed to catch the screening over lunchtime. If not, check out all the videos from our homepage.

And, as referred to by Emma this morning we recently published a briefing on Brexit and revealing how unprepared our sector is.

And on Monday, we will be releasing a 'rightsizing' survey to build up a clearer understanding of why more later living accommodation is not being built, gauging the level of demand, and identifying what will encourage developers to invest more in housing in later life.

As you all know, the Housing LIN has become the "go to" network for a growing number of housing, health and social care professionals in England and Wales. Over the past 12 months, we have strengthened our core team to support our networking and new business activities. This has boosted our modest capacity and, along with our national programmes and regional events, we have been actively engaged on a number of fronts. Our highlights include:

Being secretariat to Lord Best's All Party Parliamentary Group on Housing and Care for Older People and writing their inquiry report, Housing our Ageing Population: Preserving Independence, or HAPPI4, with a particular emphasis on rural housing issues experienced by older people.
Working with the Royal College of Occupational Therapists to engage with industry experts and help update their forthcoming publication Housing Adaptations without Delay
Co-authoring Royal Institute of British Architects publication on Age-Friendly Housing (with lead author Julia Park who presented at one of the Symposia this morning).
Following the launch of the Local Government Association's influential report on housing an ageing population, we have been working with a number of councils, including the Greater Manchester Combined Authorities, to develop help them develop a more coherent and diverse housing offer for their older citizens. This includes HAPPI inspired homes, cohousing, community-led housing and exploring new market housing opportunities, such as PRS.
On the wider transformation front, working with NHS England and several local health and social care economies on their Transforming Care Partnership programmes to widen the housing options for people with a learning disability or autism. This is an extremely challenging environment to work in, with safeguarding and mental capacity issues affecting many people in long term institutional care.
In Wales and Scotland, building on our involvement with the Welsh Government's expert group, we held our 2nd Symposium in Wales with guest speaker Helena Herklots, the new Commissioner for Older People in Wales. And, in the New Year, we released our new Scottish pages and look forward to building our presence north of the border this year.
And lastly, while this annual conference attracts 300 people, you may be surprised to learn more that we either directly managed or supported a further 43 regional and roundtable events throughout England and Wales, including for government departments on the Industrial Strategy and the Grand Challenge on Ageing.

Before I formally close today's proceedings, thanks also go to Emma Maier, our morning chair, Julie Ogley, Chan Kataria, John Tonkiss, Chris Langdon, Julia Ashley and Ed Warner - our impressive morning and afternoon keynote speakers, as well as to our Symposia chairs and session speakers, who shared those ideas and solutions.

And special mentions go to our regional leads and steering group members who help promote and maintain our presence and help run our regional programmes in England and Wales, and who facilitated the sessions today."