Innovative Housing Models for an Ageing Population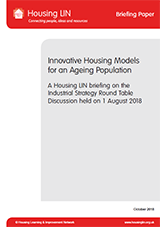 This Housing LIN Briefing Paper discusses the roundtable session with invited industry leaders which was hosted by the Department for Business, Energy and Industrial Strategy, in partnership with the Department of Health and Social Care, in London over the summer, 2018.
The objectives of the session were to explore the opportunities for the development of innovative housing models to meet the needs of an ageing population, in the dual context of the forthcoming adult social care Green Paper, and the government's Ageing Grand Challenge (as part of the Industrial Strategy).
The links below include a report of the roundtable session, a link to the government's Grand Challenges, and a link to the original event page where you can find the presentations from the event.