Integrated Homes, Care And Support: Measurable Outcomes for Healthy Ageing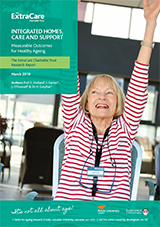 This report provides an overview of the research findings from the collaborative research project between Aston Research Centre for Healthy Ageing (ARCHA) and the ExtraCare Charitable Trust, collated by Professor Carol Holland, Centre for Ageing Research (C4AR), Lancaster University.
Throughout the report, the focus is on the benefits to residents generated through ExtraCare villages and schemes, including sustained improvements in markers of health and well-being for residents and subsequent cost implications for the NHS.
The emphasis of the report is on key learning points: what are the implications of the findings and what could be further developed? These questions are also informed by a wealth of background knowledge from the published scientific and social science literature, which the specialist authors of this report are well placed to provide.