On these pages we capture a number of Scottish policy documents, research findings, tools and good practice on specialist housing for older people in Scotland. Scroll down the left-hand menu to navigate through these key documents.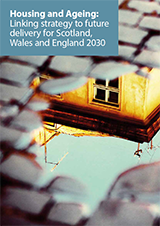 Drawing on our extensive knowledge and experience of the sector, we are particularly pleased to have been involved in 'Housing and Ageing: Linking strategy to future delivery for Scotland, Wales and England 2030' a report by the University of Stirling and partners.
And read our Chief Executive's blog on the need to develop a 'new age' of housing choices for people in later life entitled, HAPPI now! Housing Choice in Scotland.
To find out about the current range of specialist housing for older people in Scotland, visit the Housing with Care Locator.
If there are any relevant resources missing that you think we should be uploaded on these pages, let us know. And, if you would like to become a select sponsor of these Housing LIN Scotland pages, email us at scotland@housinglin.org.uk for details.
These pages include the following topics