DH CASSH Fund 2015 - 18 (Phase Two)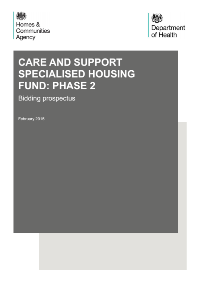 On 17 February 2015, to coincide with the Housing LIN's 2015 annual conference, the then Care and Support Minister, Norman Lamb MP, published details of Phase Two of Department of Health's Care and Support Specialised Housing (CaSSH) fund programme. Details of the 2015-2018 capital programme and accompanying prospectus can be found at:
Phase Two:
Administered by the GLA in London and the HCA in the remainder of England, Phase Two funded schemes has a particular focus on providing homes built to HAPPI (opens new window) principles for older and vulnerable people. It includes both housing specifically developed for people with mental health problems or a learning disability to live independently, as well as extra care housing.
One year on, and on the eve of the Housing LIN's 2016 annual conference (10 March 2016), the Department of Health announced the successful recipients of CaSSH Phase Two. 79 schemes have been allocated a share of the £84.2m programme. In total, Phase Two will see up to 2,000 affordable purpose-built new homes constructed. The list of all the Phase Two schemes administered by the HCA can now be found at:
In London, five schemes are set to receive circa £12 million to develop 108 homes. The funding is a mixture of affordable housing grant and loan finance delivering both affordable and private homes for those in need of specialised housing.
However, on 29 November 2016, the new Mayor of London announced his new Affordable Homes Programme (2016-2021). This makes specific reference to specialised housing for disabled and older Londoners. These purpose built schemes will be delivered over the next few years to HAPPI design principles.
For more background information on the Mayor's specialist programmes, please refer to www.london.gov.uk (opens new window)
For more information on funding specialised housing, visit our Funding Matters pages.
A record of DH funded schemes
Built into the conditions of grant in the DH's Prospectus, the Housing LIN has been tasked with the responsibility for sharing lessons and information and knowledge exchange, including keeping a record of all completed DH funded schemes on our online scheme directory (opens new window).
The HCA and GLA have now notified all the successful bidders and their partners in Phase One and Phase Two to register with the Housing LIN in order that they can take part in the Housing LIN's knowledge and information exchange opportunities. They are expected to now supply information about their pipeline development.
For further help, email info@housinglin.org.uk