Department of Health and Social Care Capital Funding Programme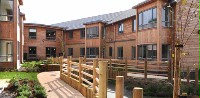 This page provides an overview of the DHSC's capital allocations in Extra Care Housing and Specialised Housing since 2004 and a record of the successive capital investment programmes and their grant conditions.
On 1 December 2021, in its Adult Social Care Reform White Paper, the government announced that there will be a further £210m capital allocation for the Care and Support Specialised Housing Fund for the period 2022-2025. We are awaiting further details on how this money will be bid for. However, do view the Prospectus under the current round (Phase Two) for information on the recent CASSH funding arrangements administered by Homes England and the Greater London Authority.
Building on the Housing LIN's learning and improvement ethos, we offer bespoke advice to help your organisation draw on the lessons highlighted on these pages. To find out how the Housing LIN can support your operational and/or strategic plans, please contact us at consultancy@housinglin.org.uk or visit our consultancy pages.