Department of Health Capital Funding Programme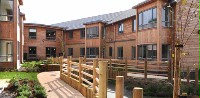 This page provides an overview of the Department of Health's investments in Extra Care and Specialised Housing since 2004. The left hand side menu enables you to glance at the rolling capital programmes. On 25 November, the Chancellor of Exchequer announced a further £71million pounds for 2021/22 for the current Care and Support Specialised Housing Fund. We are awaiting further details on how this money will be bid. However, do view the Prospectus under the current round (Phase Two extension) for information on the current arrangements administered by Homes England and the Greater London Authority.
Until 2010/11, the Aims and Objectives of the DH's Capital Fund were:
To develop new extra care housing places in England in areas where need has been demonstrated (as reflected in relevant strategies, particularly local Supporting People strategies and regional housing strategies) and which:
a) Provide independent housing with support and long term care
b) Contribute to the range of solutions to prevent unnecessary hospital admisions; and/or assist in reducing delayed transfers of care from hospitals
c) Promote wellbeing, choice, dignity and quality of life for older people and other people with disabilities and long terms conditions
To develop effective local partnerships between the NHS, local housing authorities, Supporting People teams, Local Authorities with social services responsibilities, care providers, Housing Associations and private sector and other developers of extra care housing in the interests of older people.
Since 2013, the DH's capital programme - The Care and Support Specialised Housing (CASSH) Fund - has been administered by the HCA and GLA (in London) in two phases. Information on both these phases can be found in DH CASSH Fund 2013-15 and 2015-18 tabs in the left hand side menu.
In addition, the DH have allocated capital to extra care housing through their social care Private Finance Initiative programme. This provides large scale transformation opportunities through public/private partnerships across local care economies and will provide selected authorities funding to develop their extra care housing programmes.
And finally, scroll down this page to access information on the DH's Care and Support Specialised Housing Fund (2013-15)
Independent evaluation of the DH Extra Care Housing Fund
The PSSRU and the Housing LIN have published 2 papers detailing the independent evaluation of the Department of Health's 2004-2010 Extra Care Housing Fund programme. Undertaken by the Personnel Social Services Research Unit (PSSRU) at the University of Kent, the extensive evaluation adds significantly to research showing that extra care housing and investment in housing for older people delivers benefits for both residents and the public purse.
On top of the PSSRU and Housing LIN reports, the King's Fund and the University of York have produced an evaluation report toward the end of 2020:
Evaluating the Care and Support Specialised Housing (CASSH) programme: results of a scoping exercise
This report by The King's Fund and the University of York provides "overwhelming evidence" of the widespread benefits of housing-with-care in keeping older people healthy and independent, and reducing levels of health and care support needed. Commissioned by the Department of Health and Social Care and funded by the NIHR SSCR, it reveals the substantial and widespread benefits of housing-with-care in keeping older people healthier and more independent and in reducing the levels of health and care support they need.
In addition, the National Institute of Health Research School for Social Care Research have funded a 3 year follow up project, 'Adult Social Services Environments and Settings' (ASSET), with the Universities of Bristol, Kent and Worcester. The overall aim of this project is to explore how best to provide adult social care in housing with care schemes in England, in order to maximise quality of life for residents and make the best use of resources. Results are due in the Spring 2014. Background information on ASSET can be found at: www.assetproject.wordpress.com (opens new window)
Summary of DH ECH fund allocated to date by chronological order:
2004-2005: £29million + £17.7million pre-allocated
2005-2006: £40.3million
2006-2007: £20million
2007-2008: £40million
2008-2010: £80million
2010-2011: £20,000 for every council with adult social care responsibility (CASCR)
2011-2013: the DH has allocated a further £251 million (over 2 years) for capital projects across every CASCR., including Extra Care Housing. Note that unlike previous years, this money is no longer ring-fenced.
2013-2015: Up to £315 million to boost the supported housing market. Administered by the Homes and Communities Agency (HCA) and the Greater London Authority (GLA) in 2 phases. Phase One was allocated in 2013 and resulted in 121 projects receiving a share of the Care and Support Specialised Housing (CASSH) Fund to improve the housing for disabled and older people, amounting to over 3,500 new homes (669 in London and a further 2,875 across the rest of England). Phase Two of the HCA's CASSH Fund programme was announced in February 2015 and the GLA's Mayor's Care and Support Specialised Housing Fund was announced in March 2015.
2015-2018: On 10 March 2016, the Department of Health announced the successful recipients of CaSSH Phase Two. 79 schemes have been allocated a share of the £84.2m programme. In total, Phase Two will see up to 2,000 affordable purpose-built new homes constructed by 2018. For details, click on DH CASSH Fund 2015 - 18 (Phase Two)
From 2015 the Department of Health's new Better Care Fund

(opens new window)

includes an allocation of £134m for CASCR capital purposes. In previous years, some councils used this to 'top up' their extra care housing development programmes.
The Department of Health stated that, by 2017, £43m of the Care and Support Specialised Housing Fund will be set aside to fund developments that support adults with mental health problems and learning disabilities.
2018-21: The Department of Health and Care Services CaSSHF programme has reopened (June 2018). Administered by Homes England as part of their Continuous Market Engagement, £76m a year has been allocated over three years to support and accelerate the development of specialist affordable housing which meets the needs of older people and adults with disabilities or mental health problems. For details: DHCS CASSH Fund programme 2018-21.
Other information on capital funding sources can be viewed on the Funding Extra Care pages (opens new window) on this website and accompanying Resource Pack (opens new window).