With the escalating incidence of coronavirus in the UK, it is essential that those working in our sector are fully aware of the seriousness of COVID-19 and the risk to both our own lives and the public at large. In recognition of this and the tremendous effort to support older and vulnerable adults in retirement and extra care housing, the Minister of State for Care, Helen Whately MP, met with sector leaders in April and has subsequently written this letter to our sector so we can share across our networks.
Whether operating or commissioning specialist or supported housing for older and vulnerable adults, 'Info Hub' is split into three sections that signpost to relevant Housing LIN practice briefings, national government guidelines and other useful information for our sector so you can be kept up-to-date of this rapidly evolving situation, access support and take appropriate measures.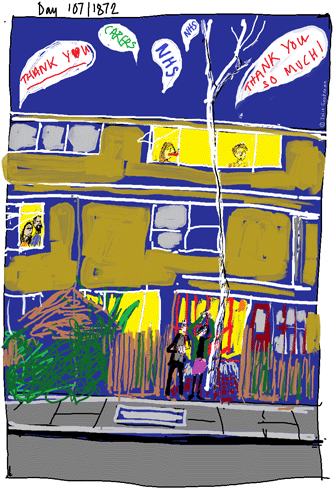 Visit other Health Intel topic pages for further resources on health and housing. There is also a simple-to-use online Health Exchange functionality on this site where you can give a brief description of and post other documents you have come across that you consider have aided your learning and are vital reading, both on coronavirus and health and housing generally.
And with coronavirus putting incredible pressure on the way person-centred and/or property services are delivered safely into the homes of people who have a care and support need, contact us to discuss how we may help you in these uncertain times. Stay Well, Be Safe.
The image above is Clap for our Carers by kind permission of Jolie Goodman (opens new window). Remember to clap for our carers every Thursday at 8pm.
Housing LIN resources
Drawing on our and Housing LIN members' experience and expertise, we are in regular touch with government officials providing insight and intelligence on how coronavirus is effecting our sector. We have also produced a series of more detailed COVID-19 practice briefings and other information on latest policy and practice developments. These can be accessed via the links below.

And read our Business Continuity statement below on how the Housing LIN is following the recommended guidelines in order to be responsible to ourselves, our family, friends, clients and the public at large, while at the same time continuing our online knowledge and information and support services.
If you require advice bespoke to your organisation's circumstances and/or would like to talk through how the Housing LIN can support your organisation at this time, please contact us at consultancy@housinglin.org.uk. For more about our consultancy services, visit: https://www.housinglin.org.uk/consultancy/.
Government guidelines and advice
Other useful resources/links