What I've learned about the importance of recovery after a crisis
During the pandemic, social care has, in many ways, become the disaster inside the disaster. We've seen the incredible damage done during the first lockdown, the exasperation of the staffing crisis, and critical partnerships becoming untenable – with in many cases, no visible route out.
This is not unusual, and – despite this being a favourite word of politicians right now – it is certainly not unprecedented. What's more is that during this period, our teams at Metropolitan Thames Valley Housing (MTVH) have not only been responding to a crisis at work – they've been living through it, and are now recovering from it, as individuals too. We saw this with Hurricane Katrina (opens new window), and I've seen it closer to home too, with response workers living in communities impacted by disaster.
No disaster, least of all this one, hits equally. Those we support and care for are some of the most vulnerable to Covid-19 – both clinically and socially (for example through rough sleeping or living alone). We (hopefully) know all too well the direct risks posed to our colleagues from leaving the house every day to do what they do; but we also need to remember that the structural failure to value our care workforce enough to pay more than a minimum or living wage has also increased their vulnerability (opens new window).
A poster in a social care service offering mental health support: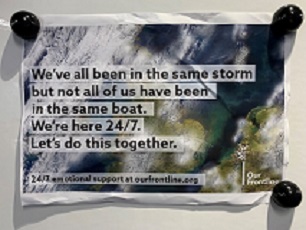 When you have responded to something in the way that social care has responded to Covid-19, it's important to think about the next stages as a period of recovery. In the same way our colleagues have been 'responders', we are now 'recoverers' too.
And as we move through this period of recovery – with its inevitable bumps and twists, and outbreaks and variants, our role is to rebuild the world around us – the services we provide, and the support we deliver. Over recent years I've learnt that the activity of recovery is, at its core, a balancing act. Every decision is about a set of competing priorities – often in peace time, each option on its own would be the clear priority, barely worthy a thought that you'd do anything else – oh for that luxury in 2021! But most of all, as leaders, our biggest balancing act is the need to simultaneously focus on rebuilding for our customers, our colleagues, and ourselves.
The possible harm that will come to people now is less likely to be from Covid-19, but from the actions we take as leaders in recovery. How we handle vaccination as a condition of deployment, how we re-open social spaces and restart activities, how we handle the wind-down of Covid-specific services, and perhaps the thing most on my mind right now – how we support the mental and emotional health of our colleagues.
Both throughout Covid-19, and in previous recovery work, I've found a couple of key principals really helpful in guiding my work:
Embrace imperfect decisions: You'll never know everything you need to when you're making the rapid decisions a recovery effort requires, and it's likely much more information would be available to you if you had more time – but you don't, so get comfortable with not knowing!
Keep people at the centre: Those decisions – they'll be better if you keep your focus on people. Sounds obvious, and especially in our sector, but the inevitable bureaucracy and politicisation of recovery always gets in the way at some point.
Look after the team, look after yourself: Possibly the thing that has affected me most in my working life has been seeing the extreme personal cost of recovery work on colleagues who have given everything to support those they are serving. Normal support mechanisms are not enough in this context, we all need to do more. And that goes for ourselves too – if you are burnt out you will cause harm, don't let that happen.
Be intentional: If there is something you hold close, and want to happen, you must be intentional about it. Likewise your leadership. There is so much going on that things like support for your team can easily fall away as you switch your attention to the next fire to be put out. This is definitely the hardest part for me.
These four points are adapted from a longer list in the incredible publication Leading In Disaster Recovery (opens new window) from the New Zealand Red Cross. I'd implore you all to go away and read it – it will make you a better leader in these times.
---
Jon is Director of Service Development at MTVH, a social housing and care provider working across London and the South East, the East Midlands and East Anglia. As well as leading MTVH's operational response to Covid-19, Jon worked on the recovery team following the fire at Grenfell Tower, and has a particular interest in trauma and mental health support for colleagues following serious incidents in housing and care environments.
And, if you found this blog of interest, you can also read a range of other resources on COVID-19 on the Housing LIN's Coronavirus Info Hub.