Coronavirus (COVID-19) - Housing and Care in Specialist Housing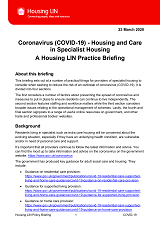 This Housing LIN Practice Briefing (No1) sets out at a number of practical things for providers of specialist housing to consider when seeking to reduce the risk of an outbreak of coronavirus (COVID-19). The Briefing was update to date at 4 November 2020 but with the new national restrictions in England announced by the Government taking effect from 00.01 on 5 November 2020, please visit the government website (opens new window) for the latest guidance.
However, this Briefing still provides useful information, tips and examples of how providers of specialist housing are operating during the pandemic. It is divided into four sections:
The first considers a number of factors about preventing the spread of coronavirus and measures to put in place to ensure residents can continue to live independently.
The second section features staffing and workforce matters
The third section considers broader issues relating to the operational management of schemes.
The fourth and final section signposts to a range of useful online resources on government, and other trade and professional bodies' websites.
We are updating this briefing periodically. Do let us know of any other steps you are taking not covered in this briefing so we can add to this list and share with Housing LIN members. Email us at info@housinglin.org.uk
To view other briefings in this series and updates, visit our Coronavirus Info Hub. And for bespoke support connected to this briefing and/or to help you organisation now or prepare for post COVID-19, visit our consultancy pages.