HLINks: New HLIN Case Study, new blog, new resources, and news and events from the specialist housing sector.
Welcome to another edition of HLINks, the Housing LIN's weekly news bulletin. This week we have a new case study, looking at a new Manchester housing development for people with cognitive conditions. We also have a new blog about the importance of design for home adaptations.
We also have our usual roundup of news and resources from the housing with care and specialist housing sectors.
Housing LIN Case Study
Creating independent homes for people developing or living with cognitive conditions in East Manchester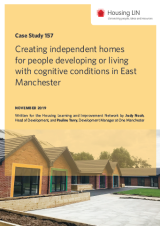 Housing LIN Case 157 is about South Gate, a new housing development from One Manchester, for people who are developing or living with cognitive conditions.
Written for the Housing LIN by Judy Noah, Head of Development, and Pauline Terry, Development Manager at One Manchester, the case study will be of interest to anyone involved in the planning, design, and delivery, of housing for people who are living with cognitive conditions.
The scheme has been shortlisted for Inside Housing's 2019 Best Older People's Housing Development of the Year, to be announced in November 2019.
Housing LIN Blog
The power of good design
Our latest Housing LIN guest blog focuses on the need for good design in home adaptations.
Laura Wood, of Invisible Creations, writes that delays to installing adaptations leads to a decrease in their efficacy, and that people and their needs have to be at the centre of designing and providing adaptations.
Housing LIN Registration
Get connected or reconnect with the Housing LIN
In order to help us direct our communications more effectively and give our members more control over which information they wish to receive, we have improved our registration system.
Whether you currently receive our weekly e-bulletin, signed up for advance notifications of our free regional events and/or annual conference, or are a member of one of our online fora, you can simply login to your profile and update your details.
This only takes a couple of minutes and will give you more control over the information you receive from us.
Housing, Community, and Ageing
Design, Planning, and Technology
Events promoted by the Housing LIN
With Thanks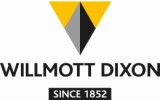 The Housing LIN would like to thank Willmott Dixon for their support in producing this newsletter.