The outlook for councils funding: is austerity over?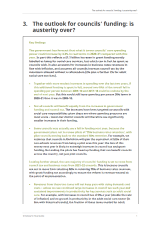 A new paper from the Institute for Fiscal Studies states that Councils will need billions of pounds in additional funding to meet the rising costs of adult social care.
With a growing elderly population, increases in the number of disabled adults, and increases in wage and other costs, English councils will likely need billions in extra funding over the next parliament if they are to meet the rising costs of providing adult social care. It explains that revenue from Council Tax and Business Rates will not keep pace with rising demands and costs – and unless there are continued large increases in council tax each year and sustained improvements in productivity for key services such as adult social care – there will be significant pressures on local government finances.