Ethical care: A bold reform agenda for adult social care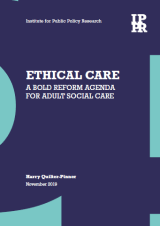 This report by think tank IPPR, identifies the three main drivers of quality in social care, and highlights some examples of innovative and high-quality care across England.
In the context of a growing gap between life expectancy and healthy life expectancy, it promotes several new ideas about what high-quality care consists of, to include improving people's wellbeing as they age, and therefore activities designed to engender purpose, meaning and social connection. It also makes reference to extra care housing and calls for an Ethical Provider Fund of £7.5billion, including funding to support ethical new providers meet capital costs.