Creating independent homes for people developing or living with cognitive conditions in East Manchester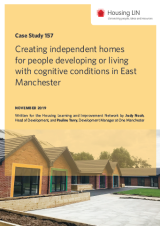 Housing LIN Case Study 157 is of the South Gate development, built on land previously owned by Manchester City Council, in Openshaw, East Manchester.
It is an intergenerational flagship scheme of 27 new homes, incorporating one and two-bedroom affordable rented bungalows for older people developing or living with cognitive conditions, alongside two- and three-bedroom houses which will provide affordable home ownership, including shared ownership for first time buyers and families in the area.
One Manchester wanted to create homes for people living with, or developing, cognitive conditions, and to enable residents to live independently for long as long as possible. They wanted homes to provide a safe, but not secured, place to live through careful design and specification. They hoped to increase wellbeing through sunlight and focal interest spaces in the summer house and gardening sheds, and to counter isolation with easy access to shared outdoor space and by enabling couples to stay together.