Extra Care Housing Toolkit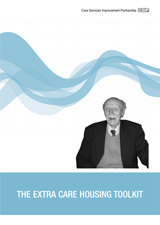 This toolkit has been replaced by the Strategic Housing for Older People Resource Pack, however you may find it useful background information.
This Toolkit developed by the Housing LIN contains sections that cover in detail the essential elements in developing extra care housing from overall strategy, needs analysis, assessing current and potential supply, implementation and evaluation.
You can download the whole document and also download tools from specific chapters, (see below).
You can also look at the contents page of the toolkit and download tools from there (see below).