About Strategic Housing for Older People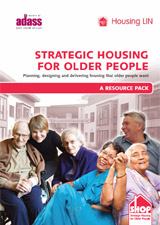 Planning, designing and delivering housing that older people want
Please note that following the recent Housing White Paper and the announcement of the CLG Select Committee Inquiry on Housing for Older People, the Housing LIN will be updating the SHOP Resource Pack available on these pages once these have reported.
The Government's Social Care White Paper, 'Caring for our Future', committed to provide support to help local authorities develop their market capacity to provide greater choice for users and drive up quality in care services. The new Developing Care Markets for Quality and Choice programme, launched by the Department of Health, will support local authorities to improve their capacity through preparing or improving their Market Position Statements (MPSs). The Housing LIN is a member of the Department of Health's Developing Care Markets Reference Group.
MPSs, as also recommended in the recent Housing LIN/ADASS Strategic Housing for Older People (SHOP) Resource Pack, 'Planning, designing and delivering housing that older people want', are an important tool to understand the current and future demand trends in housing with care and explain the desired outcomes of the local authority and their partners, in this case, helping local housing providers to respond and/or invest in their assets - their staff, property portfolio and related care and support services.
The current version of SHOP, published in 2011 by the Housing Learning and Improvement Network, and supported by the Association of Directors of Adult Social Services, and written by the Institute of Public Care (IPC) at Oxford Brookes University, SHOP provides a framework and a basket of accompanying tools for councils, public and private sector developers and providers to develop their strategic market position and take the initiative in designing and building homes that older people want, including extra care housing. The papers and accompanying tools in this Resource Pack support a variety of activities including:
how to develop an understanding of what future demand is likely to be for housing for older people
what does the market look like now and how should it look in the future
what are the key success factors in the service design process for extra care housing
how do you promote and market extra care housing
Laid out in three sections, the Resource Pack that should be used to influence your local strategic commissioning, planning and investment decisions, and give you the confidence to help transform and improve the range of housing choices for older people in your communities over the next 20 years.
The current sections that make up the SHOP Resource Pack can either be downloaded or printed as individual PDF documents or by the specific paper or tool.