Ravensworth Road
Gateshead, VELA Group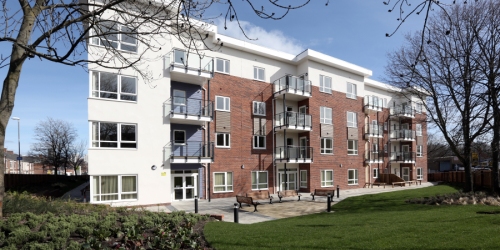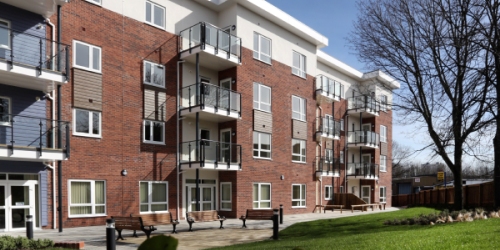 Description of Scheme
This scheme will cater older people aged 55 or over and people with dementia. Individual and communal areas are designed to support residents to age in place. Flexibility has been taken into consideration within the design to ensure the scheme can be 'care ready', giving the building capacity to meet the care and support needs of residents and commissioners over time.
Where Is It?
The Ravensworth Road site is located in the former independent village of Dunston on the south bank of the River Tyne. Dunston has now been absorbed into the Metropolitan Borough of Gateshead in the English county of Tyne and Wear. The site was formerly a 1960s council housing estate and will complement ambitious plans for regeneration of the South bank of the Tyne and Metrocentre which are both located close by.
Key Information
Location
Gateshead
Local Social Services Authority
Gateshead Council
Region
North East
Year Funded
2013
Cost
Total: £5,456,577 Grant: £739,500
DH Fund
CASSH 1
Proximity
Dunston - 260 yards
Metrocentre - 1.1 miles
Newcastle - 1.5 miles
GPs - 210 yards (1.2 miles)
Hospital - 0.9 miles (4 miles)
Dentist - 220 yards (1.5 miles)
Opticians - 530 yards (1.2 miles)
Relevant Local Strategy
The redevelopment of Ravensworth Road is a key strategic priority for the Council. It is included as a priority within the Newcastle Gateshead Local Investment Plan. The development of good quality older person's accommodation suitable for people with care needs is a key issue in the Strategic Housing Market Assessment (SHMA) and Joint Strategic Needs Assessment (JSNA). It is a delivery priority in the Core Strategy, Local Development Framework, Housing Strategy 2013-18 and Adult Social Care Commissioning Strategy.
Useful Local Statistics
At the time of submission of the bid, it was projected that Gateshead would see a 26.6% increase in its population aged 65 and over between 2012 and 2030. The population aged 85 and over was expected to increase by 69% over this period (source POPPI).
Census data shows the level of pensioner households that are living in social rented accommodation is very high in Dunston and Teams ward at 66.3%.
Also ward level data shows that Dunston and Teams ward has Long Term Limiting illness at 27.9% of the population.
Facilities
A lounge
IT/activity room
Small dining area
Kitchen
Lifts to the upper floors x two
Wet rooms
Tracking hoist racks
Wheelchair accessibility
Buggy Store
Care call alarm service linked to the Council's care services
Life style monitoring equipment and smart technology for people with dementia
Staff changing and toilets for future on site care staff
Key Features
Properties
47 Apartments
10 1Bed
27 2Bed
Tenure
1 and 2 bed affordable rent
2 bed shared ownership
Address
Ravensworth Road,
Dunston,
Gateshead,
Tyne & Wear,
NE11 9AW
Scheme Location Map
Partners
Housing Provider
VELA Group
Architects
Archial
Local Social Services Authority
Gateshead Council
Developer
Keepmoat
Contractor
Keepmoat