HLINks: New HLIN blog, new resources, and news and events from the specialist housing sector.
This week we have exciting news about Housing Made for Everyone, a new coalition which the Housing LIN is very pleased to be a part of. We also have a new blog and report looking at intergenerational living.
In this week's HLINks you can also find out about the new Housing LIN registration process, and we have our usual roundup of news and resources from the housing with care and specialist housing sectors.
Housing LIN News
Housing Made for Everyone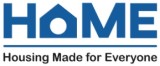 The Housing LIN is pleased to be one the founding members of HoME, a new coalition of organisations championing the case for accessible housing. Launched on 5 November 2019, The HoME coalition was founded by the Centre for Ageing Better, Habinteg Housing, Age UK, RIBA, Care & Repair England, Disability Rights UK, Housing LIN, the National Housing Federation, the Chartered Institute of Housing and the TCPA.
Chaired by the Centre for Ageing Better and Habinteg, HoME is warning of a crisis in the provision of suitable housing for older people and those with disabilities by 2030. It has set out its demands in an Accessible Housing Vision and Charter.
Housing LIN Blog
Communal and intergenerational living in the Netherlands and Denmark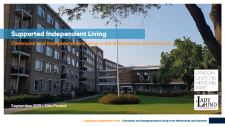 In our newest Housing LIN guest blog, Gita Prasad looks at what we in the UK can learn from intergenerational living projects in Europe.
The blog has been published to coincide with a new report, also by Gita Prasad, co-chair of our Housing LIN East region, on the same subject.
Drawing on learning gained from the Amsterdam City Government, Humanitas and De Hogeweyk in the Netherlands and from the intergenerational community, Saettedammen, in Denmark, the report examines the critical success factors of each in relation to supported independent living within a communal or intergenerational setting. With the links between housing and health in mind, it makes a number of helpful recommendations.
Housing LIN Blog
Launching the Housing with Care Opportunity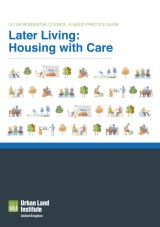 To coincide with the launch of the Urban Land Institute Housing with Care guide. Russell Pedley, Director and co-founder of Assael Architecture, has written a guest blog for the Housing LIN which offers great insight in the Later Living housing market.
In the blog Russell Pedley states "Housing with Care in the Later Living sector should be about offering comfortable homes to our ageing population".
Housing LIN Registration
Get connected or reconnect with the Housing LIN
In order to help us direct our communications more effectively and give our members more control over which information they wish to receive, we have improved our registration system.
Whether you currently receive our weekly e-bulletin, signed up for advance notifications of our free regional events and/or annual conference, or are a member of one of our online fora, you can simply login to your profile and update your email settings.
This only takes a couple of minutes and will give you more control over the information you receive from us.
Housing LIN Survey
Extra Care Housing Survey – extended to the end of the year
The Housing LIN has joined forces with EAC (Elderly Accommodation Counsel) to measure the sector's appetite for, and interest in, housing with care. We know that there is a significant shortfall of provision, recently estimated at 30,000 units per annum, against latent demand. How is the sector responding?
We've had a good response to this survey, and we're now extending the completion date to 31st December, to ensure that we have the broadest possible range of answers. If you haven't competed the survey yet, please do take a few moments to let us know what you think about the future of extra care housing.
Housing, Community, and Ageing
Design, Planning, and Technology
Events Promoted by the Housing LIN
Next Week
Next week we publish two new resources. The first is a guest blog by Invisible Creation's Laura Wood. Our second publication, coinciding with the North West Housing LIN regional meeting, is a new Housing LIN Case Study looking at One Manchester's new South Gate development (shortlisted for Inside Housing's Older People's Housing Development of the Year).
With Thanks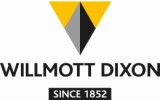 The Housing LIN would like to thank Willmott Dixon for their support in producing this newsletter.