Housing Made for Everyone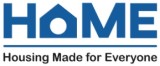 The Housing LIN is pleased to be one the founding members of HoME, a new coalition of organisations championing the case for accessible housing. Launched on 5 November 2019, The HoME coalition was founded by the Centre for Ageing Better, Habinteg Housing, Age UK, RIBA, Care & Repair England, Disability Rights UK, Housing LIN, the National Housing Federation, the Chartered Institute of Housing and the TCPA.
Chaired by the Centre for Ageing Better and Habinteg, HoME is warning of a crisis in the provision of suitable housing for older people and those with disabilities by 2030. It has set out its demands in an Accessible Housing Vision and Charter.