Shared Ownership and Affordable Homes Programme 2016 - 2021 Prospectus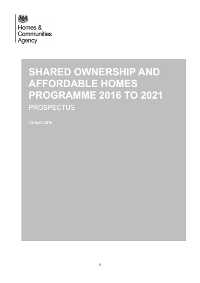 In April 2016, the Homes and Communities Agency (HCA) announced that it is making available £4.7bn of capital grant between 2016 and 2021. In relation to specialist housing, the HCA's Affordable Homes Programme prospectus sets out an ambition to deliver starts on site for at least 8,000 homes for supported and older people's rental accommodation.

In January 2017, the HCA is reopened bidding for funding to develop additional affordable housing through a continuous market engagement (CME) process. The available funding includes both the £1.3 billion which was not allocated at the initial April 2016 bid round and a share, to be determined, of the £1.4 billion announced at the Autumn Statement, for new affordable homes outside London, including specialist housing (see para 15). The definition of housing for older people or supported housing is set out in the accompanying HCA Capital Funding Guide (opens new window)(see below). Bids for grant for rented homes that do not meet this definition of specialist accommodation will not be considered for funding. Furthermore, bids for shared ownership homes for specialist client groups should be bid as shared ownership.
In addition, the HCA expect that housing providers will work with local commissioning bodies to identify the type(s) of provision that will best meet locally identified needs and complement existing services and specialist housing. Bids for housing for older, disabled and vulnerable people will be expected to demonstrate, as part of the additional information described below, that the provider:
has worked with local commissioning bodies to ensure the proposed accommodation meets locally identified needs and complements existing services;
has considered the typology, location and design of the accommodation to ensure it can continue to meet the needs of the relevant client group(s) (including, where relevant, consideration of the Housing Our Ageing Population Panel for Innovation (HAPPI) principles and the HCA's non-mainstream housing design guidance (information on both can be found on the Housing LIN 'design hub';
has identified any necessary revenue funding source associated with the accommodation or the client group; and
has in place exit plans or alternative uses for the building should commissioning priorities change in future.
Document: Shared Ownership and Affordable Homes Programme 2016 - 2021 Prospectus (opens new window)
Document: Shared Ownership and Affordable Homes Programme 2016 - 2021 Prospectus Addendum for CME (opens new window)