About the Dementia and Housing Working Group
Who is DHWG
The Dementia and Housing Working Group (DHWG) aims to promote and influence the contribution of the housing sector in improving the health, wellbeing and quality of life for people living with dementia.
As the only national group focused on housing and dementia, we are not a talking shop. The DHWG brings together a wide range of volunteer stakeholders with an action-oriented ethos and a track record of producing tangible outcomes.
With nearly 950,000 people living with dementia in the UK and 70% who live in the community, we feel it is imperative to improve standards and drive forward recommendations 34-36 of the APPG report on housing and dementia, utilising our combined knowledge to help others. It's so important to promote the role of the housing sector in enabling people with dementia to live independently in a suitable home environment in accordance with their needs and aspirations.
Our aims
Information | Insight | Influence
To improve outcomes for people living with dementia – whether that be through housing, policy or design
To push up industry standards in housing and dementia
To act as a problem solver for housing and care businesses when it comes to dementia
To share knowledge and grow usage of the DHWG Dementia Information Hub
To support and encourage dementia awareness training
Why are we here?
Lack of understanding of dementia friendly housing standards
Inadequate conversations around housing options post diagnosis
Limited dementia training programmes for housing professionals
No other national groups taking this agenda forward.
Housing design isn't taking into account the needs of people living with dementia, not only for new builds, but also to enable people to live as long as possible in their own homes. There is an ongoing lack of investment in supporting housing professionals to become dementia aware in order to understand how they can better support people living with dementia.
Our achievements
We're proud of our achievements to date. Here's some of our outcomes:
Dementia Information Hub - Your go-to place for dementia friendly guidance
DHWG has developed a "go to" resource which is being used by policy makers, RPs and housing developers, health and care professionals, those living with dementia and their carers, the home improvement sector, and building environment supply chains. It aims to:
Signpost to the many resources out there
Create a place to pool information
Visit our Dementia Information Hub (opens new window)
APPG Recommendation 34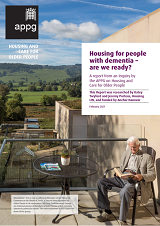 DHWG has made a significant contribution to Recommendation 34 of the All Party Parliamentary Group (APPG) Report 'Housing for People with Dementia - Are We Ready?'
"We recommend that providers of housing for older people, in the private and social sectors, should consider the design and adaptability of their homes to meet the needs of those living with dementia. This should cover both 'hard design' (wider doorways, accessible kitchens and bathrooms that enable independence) and 'soft design' (covering the auditory impact of surfaces, the use of tactile and visual cues as reminders, sign-posting, labelling)."
APPG Recommendation 35
DHWG has created a detailed job role profile for a Board Dementia Champion as their contribution to the APPG Recommendation 35. It states
"Appoint dementia 'champions' at executive / senior management / board level, in general needs social and specialist housing bodies, to demonstrate organisational commitment and ensure effective leadership at the highest level."
The Board Champion will play a pivotal role in encouraging all aspects of the organisation to become dementia-inclusive, including workforce development to ensure staff have appropriate skills and knowledge and reasonable adjustments for residents with dementia and their carers.
See a copy of the job profile here (opens new window).
Dementia Friendly Housing Charter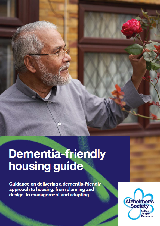 DHWG, alongside Alzheimer's Society was instrumental in developing the dementia friendly housing charter. This resource continues to inform housing organisations, corporate bodies and sector professionals on how housing, its design and supporting services can help improve and maintain the wellbeing of people affected by dementia.
Events
DHWG has presented at the UK Dementia Congress an Integrated Care Model, demonstrating how important it is to recognise how design and digital technology can support those with dementia.
Our workplan
Please see below some of the areas we are planning and/or working on.
Information
Design - Producing a clear dementia design guide that housing providers should be closely aligned to when building new homes or retrofitting existing stock
Future needs - Ensuring future housing is fit for purpose for people living with dementia
Knowledge - Sharing good practice, knowledge and expertise, maximising the use of our time and enabling people to learn from each other, expanding our Dementia Information Hub
Health - Pushing to get housing included in solutions around health and social care
Technology - Growing sector understanding on and use of how smart housing and assistive technology can enable people with dementia live well at home
Insight
Understanding needs - Ensuring all staff in housing related roles are trained to understand the needs of people living with dementia
Service guidance - Training to ensure staff can deliver services in the right way within existing stock
Diversity - Developing a better understanding of inclusion surrounding dementia
Housing options - Ensuring the public are aware of housing options for people affected by dementia and guidance for moving in
Carers - Looking at effective assistance and support in communities for carers and people living with dementia
Influence
Policy - Informing and influencing future government plans for health, housing and care so that the needs of people living with dementia are recognised, supported and resourced
APPG - Aligning APPG recommendations to relevant national/regional policy
Funding - Seeking dementia specific grants to be introduced by local authority housing policies and practice
Delivery - Supporting the delivery of Adult Social Care capital allocations to be dementia-ready
Contact us
Our members are passionate about keeping the housing and dementia conversation alive. We are keen to link with other networks and government departments. We welcome new members. Get in touch with us today.