Dementia-friendly housing guide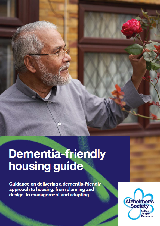 The Alzheimer's Society and Housing 21 have updated the 2017 Dementia Friendly Housing Charter. This report helps to inform how housing organisations, corporate bodies and sector professionals on how housing, their design and supporting services, can help improve and maintain the wellbeing of people affected by dementia. It offers latest guidance on delivering a dementia-friendly approach to housing: from planning and design, to management and adapting.
The Dementia-Friendly Housing Guide contains a series of actions and things to think about that housing and related services are encouraged to commit to. These actions can have a huge impact on the lives of people affected by dementia. In particular, to:
Equip housing sector professionals with information and additional resources aimed at improving knowledge and understanding of dementia so that they work in a way that minimises risks and enhances wellbeing for people living with dementia.
Explain how and why housing and housing related services can improve the lives of those living with dementia, and their families and carers; and
Encourage organisations to make or improve existing action plans in order to future proof their organisations and services, and sign up to deliver a number of the actions. the Charter.
Supported by the Housing LIN, this timely guide coincides with the launch of the All Party Parliamentary Group on Housing and Care for Older People Inquiry (opens new window) on housing and dementia.