The Common House is still quiet
Winter is coming
The Common House is still quiet. It is extremely strange to walk through a space designed for social interaction and to be the heart of the community but for it to be so silent and empty.
I live in an intentional community in Cambridge called Marmalade Lane completed in late 2018 and designed by developers TOWN and MOLE architects with the local cohousing group to be a multigenerational cohousing community with 42 homes, a Common House, shared garden and car-free lane.
We have been reinventing how the community functions since COVID-19 appeared on the horizon. In quick succession, we put up posters asking everyone to wash their hands upon entering the Common House; stopped external visits to the community, stopped shared meals and in-person meetings; limited access to the Common House, introduced a daily bleaching of door handles; and set up a separate laundry elsewhere for those deemed 'higher risk'.
Then with the PM's statement and schools closing came the most difficult challenge, working out how the children could still safely play in the shared garden while maintaining separate households. A carefully negotiated rota was introduced and worked well. Then when the COVID regulations came, our gym closed.
We supported those who had to self-isolate - so far only for the normal childhood snuffles - with food supplies and laundry. We made plans for how to support households, especially single-person households, if they developed COVID-19 symptoms. Supermarket and food deliveries were shared.
For those who needed to keep busy, there were many new initiatives to occupy them - an expansion to the internal shop, installation of a pizza oven, starting up a veg box scheme, rescuing chickens, building a new deck under the Oak - and a very productive vegetable garden.
Within a community designed for social interaction with such an emphasis on sharing resources there were differing views on risk and many different opinions on the best approach to take. Some of those conversations were intense and difficult.
That phase passed and during the summer the community breathed out and community life was able to continue outside. A walk along the lane and into the shared garden to see the chickens, chatting to neighbours en route, is now a simple pleasure to look forward to at the end of a day working from home.
We have created an outdoor room in the lane - the 'snug' - and are collecting blankets. Winter is coming. It feels so much tougher this time around to imagine navigating the coming months, so much riskier now all the children here are back at school, but the last few months have given me confidence in the resilience and creativity of communities and I am so grateful to be here at this time.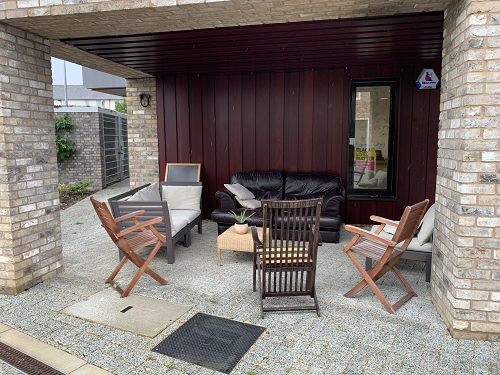 ---
Marmalade Lane is one of the Housing Design Awards 2019 winners and the country's first example of a large intergenerational choosing development.
For more information on cohousing generally, check out the Housing LIN's dedicated pages, including another blog on Marmalade Lane by Jan Chadwick, Director & member of Cambridge Cohousing Ltd: Eco-friendly cohousing in Cambridge: Building a Shared Future across all ages
In addition, Frances will be one of our speakers at this year Housing LIN Summit – Reaching for the Top w/c 7 December 2020. She will present in the session 'CollaborAGE: community-led housing and lifelong neighbourhoods' on 8 December from 4pm. Visit this event's page for more information and to book your place: https://www.housinglin.org.uk/Events/Housing-LIN-Summit-2020/