Eco-friendly cohousing in Cambridge: Building a Shared Future across all ages
It seems such a long time since my husband and I decided that cohousing was right for us, and we started our journey towards our goal with Cambridge Cohousing back in August 2013!
We came across the project, following our exploration into a different way of living. We wanted to maintain an active and engaged neighborly way of life as we got older and wound down from work into retirement. K1 Cohousing in Orchard Park Cambridge seemed the ideal solution. It already had land designated by the council for the project and was actively recruiting members, so we had no hesitation in signing up!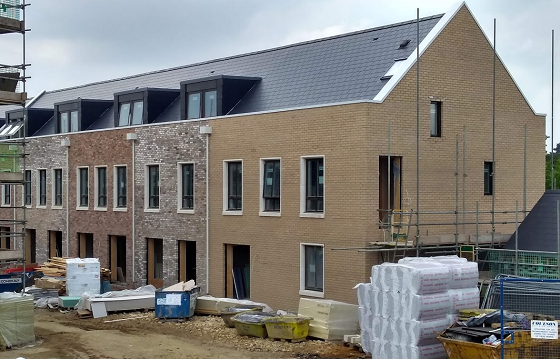 Five years on, and with a huge amount of work behind us, ourselves and our fellow members in K1 are seeing our dream come true. Thanks to Cambridge City Council, our developer TOWN, Trivselhus, the Swedish manufacturer of our outstanding closed frame, highly insulated house construction panels, and Coulson, the local building contractor currently constructing our homes, we will shortly be moving into our new properties at Marmalade Lane (our newly named street).
Our goal was a design that worked for all ages, with a shared common house and gardens and facilities that included a community kitchen, dining area, kids play room, meeting rooms and spare bedrooms. We also wanted our environmental footprint to be much lighter than a normal development, and our community to be engaged and robust. Having worked for the last five years in developing our principals of sharing our community together we think we've got there, sharing facilities and "stuff", but still having our own front doors!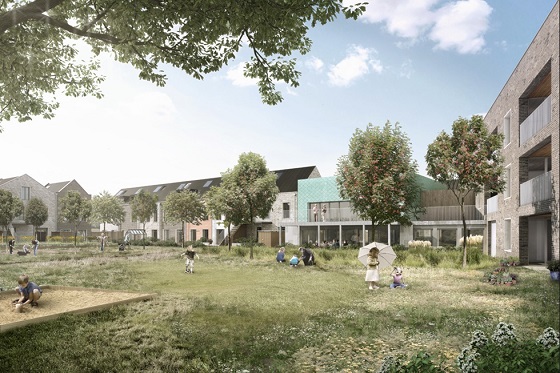 Twelve months since our developer started on the construction phase, just a limited number of houses and apartments are still available to purchase at Cambridge's first ever cohousing development; the newly named Marmalade Lane. When we move in to the 42 homes in summer 2018, we will reap the rewards of our very own vision of shared living in top-quality Swedish designed eco-friendly homes.
Construction is well advanced, and we have just enjoyed a pre-move in Community Workshop, as well as an extensive site visit to see our new homes in progress. Workshops have been the life blood of the group. Over the years we have created our client design brief through this methodology, selected with the council our developer, created our community agreements and done more than we could possibly image to get our show on the road!
So, if you think cohousing is for you, buying a home on Marmalade Lane is explained by TOWN Director, Jonny Anstead, the developer of the site for the group.
"It is much like buying a home anywhere else. Homes are self-contained, and come complete with everything you'd expect to find in a regular new home. They're privately owned – it's not about creating a commune – and nearly all homes will have their own private garden or balcony. You will also benefit from the additional features of the development – the Common House, shared garden and workshop. All this means that this will be a closer community than most new developments. It's ideal for people who like the idea of knowing their neighbors, and who are prepared to get involved in community life."
The carefully planned shared facilities are part of the draw, as our members Hester Wells, who has already reserved her new home, explains:
"The Common House is a flexible space for everyone to use, whether for a gathering with friends, doing an exercise class, or sharing a meal with other residents. It'll include a community kitchen, and laundry room for anyone not wishing to have a washing machine of their own."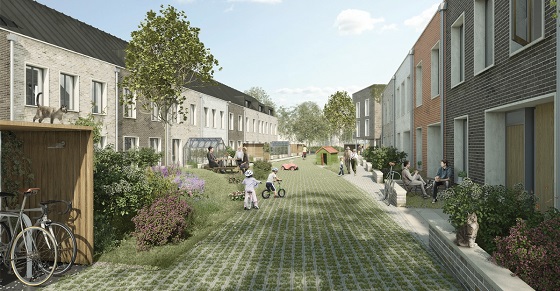 The gardens are extra outdoor spaces for residents to use. There's space to grow food in the productive garden and for kids to play together in a natural setting away from busy streets.
Most current members have exchanged contracts, leaving just 10 three and four bedroom houses left for reservation. Reflecting the uniqueness of the development, our members are from far and wide comprising of 11 nationalities, and families from across the country as well as current Cambridge residents who want to be part of this groundbreaking cohousing project.
For myself and Ian, making the move to Cambridge from Cheshire two years ago in reddyiness for our purchase has been great, allowing us time to get to know the "neighbours" well, and participate in the preparation work and socials! We're really looking forward to our new home and a new exciting phase of our life in a sustainable and environmentally friendly community!
If cohousing is for you take a look at the group's website.
For more information on cohousing generally, check out the Housing LIN's dedicated pages.
Follow Cambridge Cohousing on Twitter - @CambridgeK1
From the Guardian 8th May 2019 - Marmalade Lane: the car-free, triple-glazed, 42-house oasis