Isolation and loneliness: Feelings continue to intensify another 12 months on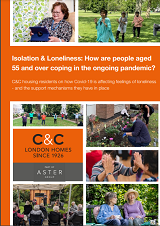 At the start of 2021, C&C published findings of research (opens new window) conducted by over 200 of our residents to seek their attitudes towards isolation and loneliness. With most of our residents aged 55 or over, many living alone, and several falling into the category of those who may need to shield at times when cases of the Covid-19 virus are at their worst, we were acutely aware of how people may experience these feelings as a direct result of the pandemic.
A year on, we've returned to the same theme (opens new window), finding out if residents have become more 'used' to the presence of Covid-19 and developed new coping strategies to stave off isolation and loneliness, or whether the pandemic is continuing to take its toll.
The feedback told us:
30% of C&C residents have felt isolated or lonely in the past year, down from 38% 12 months ago
However, of those who do experience isolation and/or loneliness, 79% said these feelings had not improved over the timeframe. Indeed, 54% now experience such emotions more frequently.
A huge 88% rely on family and friends as a major support network to help stave off isolation and loneliness – up from 58% in the 2020/21 winter.
Our results demonstrate that the mental health effects of the various restrictions society has had to face continue to have a significant impact.
When Covid-19 cases have been especially high, we have suspended in-person activities in favour of online fitness, arts and music classes. For many residents, these have been a huge success, connecting them with residents from other schemes who they did not know before, while giving them digital confidence to also reach out to family and friends online through meetings on tools such as Zoom and Teams.
Yet our desire remains to predominantly focus on in-person activities as and when it is safe to do so. This year, we'll be working closely then ever with our partner organisations to deliver hundreds of safe and exciting activities at our schemes that keep residents active, entertained and engaged. Given the increased awareness of nature and the outdoor world around us that Covid-19 has brought, many of these activities will take in nearby parks, commons and other attractions.
Indeed, as part of this year's survey we asked our partner organisations – including the likes of Age UK, Brighter Together and the British Lung Foundation Support Group – what they are doing to help curb isolation and loneliness. One is hoping to open a café to act as a conduit for lonely people to link with others, for example, while another is seeking more funding to provide art-based engagement activities. Almost all agreed that isolation and loneliness had risen among those people they support who are aged 55 and over, across the past year.
We hope that residents who do feel isolated and lonely feel they can reach out to us, to other organisations, and to their own support networks. And we hope that we can support them in the best ways possible, keeping them connected, stimulated and safe as this pandemic enters a third year.
---
You can read C&C's full isolation and loneliness report on their website. (opens new window) And if you're an organization who believes you may be able to help their residents, they'd love to hear from you: getinvolved@ccht.org.uk.
And if you found this of interest, check out a range of other resoureces the Housing LIN curates on their dedicated webpages on loneliness and isolation.