Isolation and loneliness among over 55s during Covid-19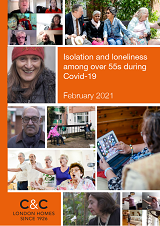 A study of 250 Central & Cecil (C&C) residents out today finds 12% experience feelings of loneliness/isolation on a daily/weekly basis – higher than other recent studies.
It found that the ongoing Covid-19 pandemic has heightened existing feelings of loneliness and isolation among people aged 55 and that speaking with family and friends, taking up a new hobby/activity and regular walks seen as best coping mechanisms to manage feelings. Furthermore, the extent to which residents report loneliness and isolation on a daily/weekly or monthly basis suggests that the problem is more serious than other studies might suggest.
The findings draws on the experiences of residents aged 55 or over. Most live alone and many are classified as 'vulnerable' or 'extremely vulnerable' to the Covid-19 virus. The results show:
29% of residents had felt feelings of loneliness and/or isolation at least once a month even prior to the Covid-19 pandemic. This rose to 38% since the first lockdown started in March 2020.
Three-quarters of residents who already felt lonely or isolated monthly stated that these feelings had intensified during the pandemic.
12% of residents now report feelings of loneliness or isolation daily or weekly.
Many of their residents shared practical tips and advice to manage isolation and loneliness during this time. Below you can hear from a few of them, and learn more about ways of coping by reading the full report or the one-page summary (opens new window).
And, one year from the release of this report, view the latest edition by C&C (part of the Aster Group) and an accompanying blog by C&C Managing Director, Julia Ashley.