Loneliness and isolation: what has been the real impact of Covid-19 on the over-55s?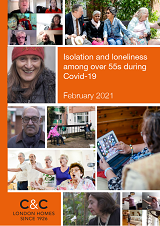 The restrictions placed on us all by the Covid-19 pandemic have given many people strong feelings of loneliness and isolation over the past year. For C&C residents, most of which are 55 and over, mainly living alone and often vulnerable; we have been well aware that such emotions could be intensified by the crisis, especially during the winter months.
In order to find out some of the mental health impacts of the pandemic, we conducted an in-depth study with a large cross-section of our residents in the closing weeks of 2020.
Here's what they told us:
29% told us they had felt feelings of loneliness and/or isolation even prior to the pandemic.
This rose to 38% feeling lonely or isolated at least once a month since the first lockdown (in March 2020), with 1 in 8 now experiencing these feelings daily or weekly.
Almost three-quarters of residents who feel lonely or isolated monthly stated that these feelings had intensified during the pandemic.
Over half (58%) recommended speaking with family and friends was the best way of managing these emotions, followed by joining a local activity/starting a new hobby (or similar) (55%), going for a walk (43%) and connecting with others who may feel similar (27%).
Our results are higher than compared to other recent studies. For example, the latest available ONS research (opens new window) cited 8% as always/often feeling lonely (12% in our research).
The findings demonstrate the extent to which residents need a variety of support mechanisms to keep them connected and engaged during these challenging times. We do our best as an organisation – hosting a variety of online arts events and fitness groups, checking in on our most vulnerable residents, and supporting others with weekly shopping and medical needs.
But we're conscious that, as a small charitable organisation, our resources are stretched. We hope that by publishing our findings, we will encourage organisations both in our London base and nationally, who may be in a position to help the mental health and welfare of our residents, to come forward. We work closely with some local authority partners already, but additional support will enable us to do much more.
Residents supporting residents
Happily, some of our residents themselves gave useful tips for others, based on their own experiences of managing loneliness and isolation.
For example, Salim discovered a new passion for cooking (opens new window) at the age of 70, while Myriam took up ballet (opens new window) for the first time in her life. Others discussed completing puzzles, knitting, and using helplines such as the Samaritans as ways they could cope. Three in five of our residents are now online and regularly go on the internet to stay connected and engaged.
We hope that those residents who continue to regularly feel alone can benefit from the advice offered by others in our report. We hope also that other organisations will speak with us and help our efforts to keep residents connected, stimulated and safe – during this pandemic and in the future.
---
You can read C&C's full loneliness and isolation report on their website (opens new window). And if you're an organization who believes you may be able to help their residents, they'd love to hear from you: getinvolved@ccht.org.uk.
And if you found this of interest, check out a range of other resoureces the Housing LIN curates on their dedicated webpages on loneliness and isolation.