How the Disabled Facilities Grant might change
Central government funding for the Disabled Facilities Grant (DFG) has increased substantially in recent years enabling thousands of people of all ages to adapt their homes and live independently. However, the delivery of adaptations varies widely across England. Where services are fully integrated, they are generally quicker and more effective, but grant delivery is often split between counties and districts, or between different departments and third sector organisations, making it slow and confusing for the user.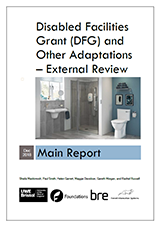 A review was commissioned by the Department of Health and Social Care and carried out by the University of the West of England, Foundations, the Building Research Establishment (BRE), Ferret Information Systems and an independent cccupational therapist. Published in December 2018, the report of the findings is wide ranging, using evidence to provide options about future allocation of resources, means testing and the upper limit of the grant. It makes practical recommendations for changes to the way strategic oversight can be provided, how services can be integrated and decision-making improved. While retaining the mandatory duty, the report shows how the DFG can move from being a stand-alone service offering a limited range of adaptations, to being part of a package of provisions to help more people remain independent.
How the Disabled Facilities Grant might changeThe DFG has a key role to play in prevention (opens new window). Despite the HAPPI design principles, we are building very few new accessible homes and the existing housing stock is not designed to make it easy for people to remain self-reliant. Evidence is building about the cost of poor housing to the NHS (opens new window), the impact of adaptations on reducing falls (opens new window) and how the installation of showers (opens new window) can improve health and wellbeing. We know that demand for adaptation services will rise as the population continues to age. The number of younger disabled people and families with disabled children is also increasing. There is a pressing need to improve access to advice and information to people who may not get a grant but need support to retrofit their homes.
Technology, materials and designs are also developing rapidly, while people's expectations about home alterations are changing. As a result, the DFG and adaptation services need to evolve to meet these challenges and opportunities. The report gives recommendations for government to reform and update the service. If implemented the outcome will be: a more equitable distribution of resources; better guidance and support for local authorities and home improvement agencies; faster, more flexible services; and quality of life improvements for more people currently living in unsuitable homes.
Paul Smith, Director of Foundations, the national body for home improvement agencies and DFG, said:
"This review sets out a number of practical ways we can improve the delivery of home adaptations and ensure they are tailored to the individual. DFG will be 30 years old next year. In many ways it was ahead of its time – recognising the importance of supporting independence. The preventative approach it embodies is now becoming the norm and we have an opportunity to bring health, housing and social care practitioners closer together to make DFG more effective."
LINKS
External Review of Disabled Facilities Grant (DFG) and Other Adaptations (opens new window)
External Review of Disabled Facilities Grant (DFG) and Other Adaptations Summary (opens new window)
To view a range of other resources on access and adaptations, visit the Housing LIN's 'Design Hub' or our dedicated Occupational Therapy pages.