The Appropriate and Rightsizing Study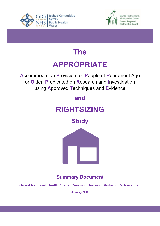 Based on the first study of its kind in Wales, this report on the 'Accommodation Provision for People of Retirement Age or Older, Predicated on Research and Investigation using Approved Techniques and Evidence' (APPROPRIATE) presents the findings of a study for the Gwent Health, Social Care and Housing Partnership.
The study researches the aspirations for appropriate housing solutions for older people in Gwent, which would enable them to live happily, healthily, safely and independently in later life. It also describes the reasons why older people do not want to move to appropriate housing in later life and how this issue could be addressed.
It is hoped that the suggestions about helping older people to contemplate the advantages of "RIGHTSIZING" to encourage them to make the proactive move to appropriate accommodation will be useful.