Pioneering Health and Housing Memorandum of Understanding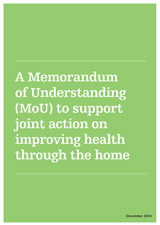 Under the Care Act there is a requirement for closer cooperation of services that support the health and wellbeing of those who may be in need of care and support. An emphasis is placed on greater integration between health and social services to deliver more person-centred outcomes.
As part of a drive for more integration, a pioneering Health and Housing Memorandum of Understanding (MoU) between government departments, its agencies such as NHS England, Public Health England and the Homes and Communities Agency, was signed in 2015 by sector professional and trade bodies and leading learning networks, including the Housing LIN. Three years on, a new MoU was published in 2018 (access via link below).
Under the MoU and its accompanying Action Plan, the Housing LIN is responsible for taking the lead in exemplifying relevant policies, tools and examples of practice. These dedicated 'Health Intel' webpages already provide an excellent platform for sharing housing and health tools and resources that can enable practitioners forge stronger health and housing partnership working and deliver system improvements for patients, services users and care givers.
The MoU details areas of improvement and the action plan that will ensure organisations work together to:
Establish and support national and local dialogue,
information exchange and decision-making across government, health, social care and housing sectors;
Coordinate health, social care, and housing policy;
Enable improved collaboration and integration of healthcare and housing in the planning, commissioning and delivery of homes and services;
Promote the housing sector contribution to: addressing the wider determinants of health; health equity; improvements to patient experience and
Develop the workforce across sectors so that they are confident and skilled in understanding the relationship between where people live and their health and wellbeing and are able to identify suitable solutions to improve outcomes.
And lastly, to find out more about the links between health and housing, visit our dedicated Health Intel (opens new window) pages.