'It was a day of friendliness' Older people's views on outreach in sheltered housing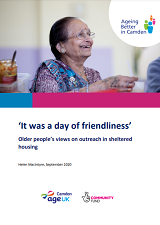 This report by Ageing Better in Camden (ABC), presents views of older people on the approach to sheltered housing outreach work developed by the ABC Outreach Team.
Drawing on 'door stop' outreach and 'pop up' resident engagement events prior to Covid, it is intended to inform those with an interest in addressing social isolation and loneliness of older people who are living in sheltered housing.
The findings reveal that that there were a number of sheltered housing residents who lacked social opportunities and were feeling lonely or isolated.
Furthermore, it found that the absence of any on site support created challenges around finding the time to provide the activities and support necessary for some residents to develop and maintain social connections. However, the efforts by the Outreach Team and/or housing managers demonstrated how they offered possibilities to signpost to further social engagement inside or outside the housing scheme.