Housing and disabled people: A toolkit for local authorities in England - Strategic Planning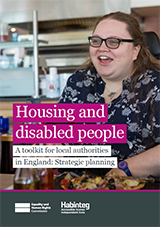 This toolkit sets out the legal and policy context for meeting the housing needs of disabled people. It highlights the linkages between housing, health and social care, and provides guidance about how to ensure the integration of policy and practice.
Part of the EHRC and Habinteg toolkit on Housing and Disabled People for local authorities in England, this toolkit provides guidance and information on legal issues to ensure that strategic planning for housing by local authorities takes into account the needs of people with disabilities.
This toolkit is part of Housing and Disabled People A Toolkit for local authorities in England. More information can be found in the link below.