Housing and disabled people: A toolkit for local authorities in England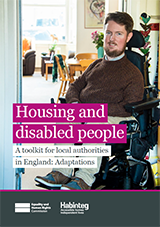 Housing and Disabled People is a new toolkit from Habinteg (opens new window) and the Equalities and Human Rights Commision (opens new window), for those involved in housing and planning in local authorities in England.
Written by IBA, with input from the Housing LIN, it includes useful information, checklists, questionnaires and best practice examples on the provision and management of housing adaptations.
Accompanying the toolkit are a selection of downloadable guides for:
There is also a separate toolkit for disabled people and organisations that support disabled people.
Housing LIN Managing Director Jeremy Porteus said "this is a significant document".
"We're delighted to have been a partner in the production of this toolkit. Housing inequalities for people with disabilities need to be addressed as a matter of urgency, and this toolkit gives us the tools to start this work".