Digital Inclusion Guide for Health and Care in Wales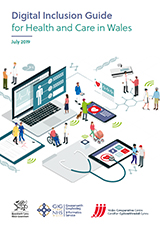 This report is aimed at health and social care organisations and includes practical advice on how to support digital inclusion at a local level.
Digital inclusion means having the motivation, skills and access to benefit fully from digital technology. People who lack one, or a combination, of these may be digitally excluded and risk being left behind in a society where more and more services, including vital public services, go online.
Overall, 11 per cent of adults in Wales are not online, but some sections of the population are more at risk of digital exclusion than others. This includes older people, those with a disability or long-term health issues and people with less access to education.