Cultivating Neighbourhoods that Care: A Manifesto for change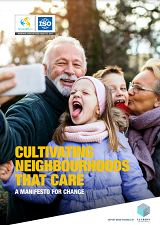 This report launched by the Agile Ageing Alliance, with support from the UK's largest housing association Clarion Housing Group, urges the housing sector to step up and play its part in combatting the growing epidemic of loneliness through the delivery of more inventive and inclusive places.
Titled 'Cultivating Neighbourhoods that Care: A manifesto for change', the report examines how the built environment can address loneliness in society through the creation of connected communities for residents of all ages.
Contributed to by age, health, care and design experts, policy makers and thought leaders, and drawing on perspectives and best practice from around the world, the report sets out how the housing sector can combat loneliness and mental health issues – among younger and older populations – and ease the associated burden of this on the health and social care system.
Ian Spero, founder of the Agile Ageing Alliance, said:
"This report concludes that we should focus on constructing more age-friendly housing within multigenerational neighbourhoods. What's missing is a commonly agreed view of "what good looks like", making it hard for private, public and third sector stakeholders to plan. The quicker we can create and promote widely accepted best practice, the more confidence will increase and the faster the market will grow."
The report is the by-product of two years of cross sector consultation, informing development of the first ever internationally-recognised standard for smart, multigenerational neighbourhoods, which will provide guidance for public, private and third sector stakeholders and drive change at pace and scale.