The Elms
Aylesbury, Housing Solutions Ltd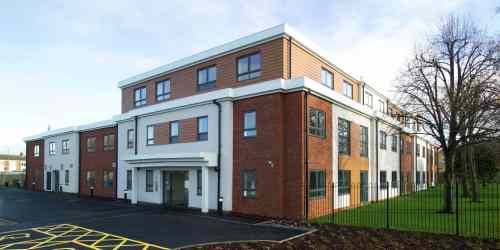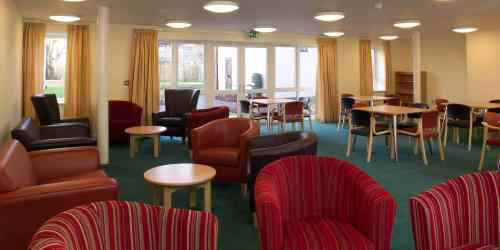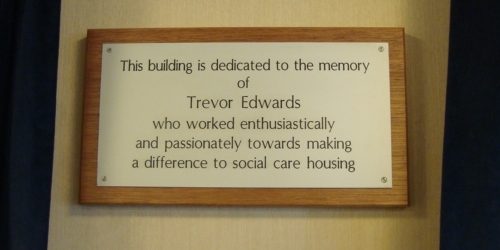 Description of Scheme
This is a modern flat roofed design set over three floors. The elevations are a combination of brick, render and reconstituted timber cladding producing a light, airy and low maintenance exterior. It has been laid out in a 'horse shoe' shape affording it both personal spaces around the outside of the building as well as a large courtyard garden. There is even an allotment area to encourage residents to take an active part in the use of the grounds.
The entire building has been embedded with a sophisticated telecare system allowing it to readily adapt to the changing needs of its residents by supporting their independent living remotely. There are also a number of elements intended to reduce energy consumption and therefore costs to residents. It even has both photovoltaic panels and a combined heat and power installation to generate its own power. This allowed it to attain the Breeam Code for Sustainable Buildings rating of 'Very Good'.
The building was designed to provide Extra Care to the over 55s with a wide range of both physical and mental needs, up to and including dementia. At present, all the residents have some form of mental health issue but that will change over time and move to a more diverse resident profile.
This building will become a focus for the wider community in the area. It boasts a wide range of facilities but with access electronically controlled to the residential areas. This allows the residents privacy while still facilitating external users to avail themselves of the main facilities via partner organisations and their activities through hiring out spaces.
Where Is It?
The development abuts the main ring road around Aylesbury town centre. It fronts a 1960's housing estate and is conveniently located for both local amenities and public transport links in to the centre of town and beyond.
Residents Information
Following six weekly visits to the Elms our Support Services Officer has reported that tenants at The Elms have indicated that they are very happy with their new accommodation and also with the services provided by Hightown Praetorian who are the care provider.
Key Information
Location
Aylesbury
Local Social Services Authority
Aylesbury Vale
Region
South East
Year Funded
2008-10
Cost
£2.85m
DH Fund
ECH
Relevant Local Strategy
The construction of The Elms is part of Buckinghamshire's 12 year Housing Plan for People with Support Needs.
"We have an extra care strategy in place that has recently been refreshed that details our plans. There is a real commitment to expand the use of extra care in Buckinghamshire. The districts, county and other stakeholders are working to increase the capacity form the 48 units we currently have. The strategy outlines there is a need for 560 units across the county by 2016, but it is recognised that this figure could change over time especially considering the scale of the self funding market. We see extra care as an alternative to residential care and will promote independence, reduce isolation and strengthen communities."
"The development of extra care housing for older people will promote choice for older people with a physical or sensory disability, and will reduce the demand for residential care..."
Useful Local Statistics
Taken from Buckinghamshire's 12 year Housing Plan for People with Support Needs.
The percentage of older people in Aylesbury Vale as the total population over 65 in Buckinghamshire will increase from 31.9% in 2008 to 35.1% in 2020.
The numbers of people with dementia is set to increase rapidly, with the National Dementia Strategy 2009 stating that in the UK there will be twice as many people in the UK with dementia in 30 years time.
People are living longer, but perhaps what is more important is how healthy people remain when they age. There is some debate about this issue, but there is evidence that the % of a person's life that they experience 'good' or 'fairly good' health is decreasing (between 1981 and 2001 the percentage of healthy life for men fell from 90% to 88.5% - source www.statistics.gov.uk )
Care Services
Extra Care scheme with non-resident management staff
Facilities
Two communal lounges
Hairdressing / treatment room
Full commercial kitchen
Communal laundry
Two communal bathrooms
Office suite for on-site 24 hour care
Key Features
Properties
28 flats. Sizes 1bed, 2bed. Built in 2011.
Tenure
Address
Verwood Road
Elmhurst
Aylesbury
Buckinghamshire
HP20 2AY
Scheme Location Map
Partners
Housing Provider
Housing Solutions Ltd
Architects
PRP Architects
Care Provider
Hightown Praetorian
Local Social Services Authority
Aylesbury Vale
Developer
Housing Solutions Ltd
Contractor
Bramall Construction