St Loyes
Exeter - Unknown Exact Location , Exeter City Council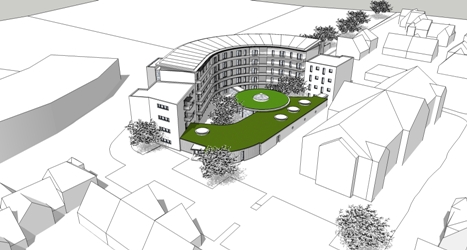 Description of Scheme
The St Loyes scheme has not adopted the typical extra care design which has long central access corridors with flats located on either side. This central corridor approach has several disadvantages including being institutional in its design and feel. The project has used building physics in the form of IES thermal modelling and PHPP initial analysis with future climate change files to assess the performance of the existing outline planning and inform the design team to rethink the design approach to the building to incorporate not only a building design that is healthier and a better place to be in but also one that has an improved ventilation strategy.
The Council wants to ensure that the building is adaptable to future climate change as most older people are more vulnerable to climatic fluctuations. To ensure such a climate change adaptability specification is achievable, the Council entered and successfully won a Government Technology Strategy Board Designing for Future Climate Change competition for design funding. The main climate change risks that the project addressed are: increased internal and external temperatures; unstable/changing surface temperature levels resulting in uncomfortable internal conditions; unstable internal temperatures and fluctuating humidity levels; increased wind and rain severity; reduced rainfall in summer and increased rainfall in winter affecting water supply and landscape; increased pollen count, airborne particulates and manmade pollutants due to higher external temperatures and at times, less wind to help clear localised air quality; flooding.
The building will be constructed to meet the PHI Passivhaus standard, ensuring that all of its performance functions can be provided without detrimental impact on maintaining Passivhaus standards throughout the building's use. The Council has recently built the first two Passivhaus accredited social housing schemes in the UK (21 new homes) and due to their success and their ability to reduce fuel poverty; we want to ensure that this scheme reaches the same high standards.
The Department of Energy & Climate Change considers a household to be in fuel poverty if it spends more than 10% of its income on fuel for adequate heating. This can be a real issue for older people on fixed incomes. The PassivHaus standard is a performance standard with an overarching requirement of a space heating demand that must not exceed 15kWh/m2/year. The core focus of PassivHaus design is to dramatically reduce the requirement for space heating and cooling. A PassivHaus home can easily see at least a 75% reduction in energy required for space heating, therefore helping to move people out of fuel poverty.
The current design allows for a building of approximately 5000m² spread over a four to five storey building with additional part single storey accommodation. The scheme consists of 50 self-contained flats - 32 x 2 bed apartments @ circa 64m² and 18 x 1 bed apartments @ circa 51m².
Nine of the 1 bed flats and eleven of the 2 bed will be provided as a specialist dementia unit within the scheme development; capable of accepting referrals of people with advanced stages of dementia. This dementia unit will be within the central accommodation cluster and the whole of the fourth floor. The Dementia Unit contains its own dining/lounge/staff observation station and staff laundry area.
Whilst this is an Extra Care Facility and it is expected that carers will be monitoring the occupants, there will still be health and psychological benefits to designing the scheme with a community and cafe at the heart of the building. The cafe and community building has been designed to form part of the landscape which then also links by access walkways into the flat areas. The cafe is also designed to open up to the outer environment to merge with the external green spaces thus increasing a connection with nature when conditions are favourable. All the flats have been designed to view into the cafe and community space. Both the cafe and community activity rooms have been designed with roof glazing systems so that people can see various activities taking place from their flats, so that residents in their flats do not have to feel that they are alone or isolated. In addition to this the 50 flats have been broken down into 3 'clusters' or 'vertical communities' that break down the scale of the building, in effect helping to de-institutionalise the building; each with their own lift, entrance, communal laundry rooms and shared lounge areas. This creates smaller groups within the larger community so that individuals can make social connections within smaller family scale groupings. Also, should one lift not be working, staff, visitors and residents can still access the whole building via the long balconies which run across all three clusters.
This project will address fuel poverty by the nature of the low energy measures included. This design will result in reduced running costs for the occupants and common areas together with reduced maintenance costs by relying on passive techniques to allow adaptation to future climate change. Designing adaptation strategies at the outset will prolong the usefulness of the building over time with likely future changes in the climate. A robust building design and scheme that is flexible for future change will ensure the building requires limited retrofitting and reduced refurbishment in the future. It is a home for life in that it is suitable and accessible for any over 55 year old in need of housing and care (including high level dementia care) and it is adaptable to future climate changes as well as new and emerging technologies such as telecare.
Where Is It?
'St Loyes', will be situated within Exeter City, however the address is currently unknown as it will form part of a large new build site.
The scheme is part of a large new build site (previously a college) close to the City Centre. The lower half of the site will be private residential and the upper part of the site will be a private retirement village.
Key Information
Location
Exeter - Unknown Exact Location
Local Social Services Authority
Exeter City Council
Region
South West
Year Funded
2013
Cost
£7.9m
DH Fund
CASSH 1
Proximity
The site is located approximately 1.5 miles from Exeter City Centre High Street, on the main arterial road, Topsham Road. Access to the City Centre is reasonably level, all on good pavements, with a pedestrian crossings over main roads. The following facilities are within close proximity to the development site:
GP Surgeries, the nearest being 0.6 miles away
Royal Devon & Exeter Hospital 0.7 miles away
Nuffield Hospital 0.7 miles away
Whipton Community Hospital 2 miles away
9 Dentists, within 0.8 - 1.3 miles away
Bus Stop, 0.1 mile away, directly outside the site on the main road.
Bus Station, 1.4 miles away
Supermarkets: local Costcutter 0.5 miles, Tesco 1 mile, Sainsbury's 1.5 miles, Morrisons 1.9 miles, Marks & Spencer 1.5 miles, Waitrose 1.5 miles.
Age UK offices, 1.9 miles away
Over 10 Pharmacies, 0.4 miles to 1.5 miles away
Post Office, sub-post office 0.1 mile away, main post office, 1.5 miles away
All main banks , 1.5 miles away
Exeter Central Library, 1.5 miles away
Public Sports Centre, nearest is 0.7 miles away
Relevant Local Strategy
Exeter City Council recognises the implications of this growth and wants to ensure that the older residents of the City age well and have good quality housing. The Council's Older Persons Housing Strategy 2010-2015 outlines our intention to provide good quality extra care to meet current and future need. Click here (opens new window) to view strategy.
In 2008 the Devon Commissioning Strategy for Extra Care Housing (Click here (opens new window) to access strategy) identified a need of 150 affordable units in Exeter. The model used to calculate need was based on a CLG model for estimating the needs of vulnerable people in growth areas. The model looked at the population at risk, which is the population of older people that is most likely to require extra care housing. In addition, the model also identifies the population in need, which is an estimate of the demand for extra care housing. The net need is then calculated by looking at current supply. This methodology identified a need for 150 affordable extra care units in 2008. It is likely that this need has grown considerably in the last five years given that no extra care schemes have been delivered in the City.
Facilities
There will be approximately 35% communal areas consisting of:
Reception area
manager's office
care staff office & sleep over room
mobility scooter store
communal kitchen
refuse store
activities room
general store room
café and dining area
lounge areas, toilets
laundry rooms
assisted bathrooms
landscaped gardens and sheltered walkways.
Key Features
Properties
50 apartments. 18 1bed, 32 2bed.
Tenure
This scheme was negotiated and designed as 100% social rent. However as this funding is only for affordable rent and shared ownership we are changing the mix to 70% affordable rent and 30% older persons shared ownership.
Partners
Housing Provider
Exeter City Council
Architects
Gale and Snowden
Local Social Services Authority
Exeter City Council