Milton Extra Care Retirement Village
Southsea, Housing 21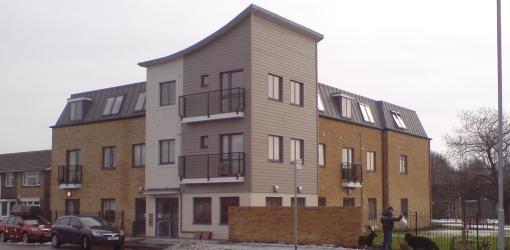 Description of Scheme
Milton Village in Southsea consists of three extra care schemes, each with a mix of one and two bedroom apartments specially designed to support independent living for older people.
All flats are compliant with the HCA Scheme Work Development Standards and Code of Sustainable Homes and built to Mobility access standard and fitted with Tunstall Overlay system compatible with Telecare add ons. Bream level good.
Where Is It?
Traditional residential housing mainly 2-storey in height and dating from 1930's and 1950-60's. There are several institutional type buildings, a large public house and some light industry workshops. The residential element predominates, some private developments and the rest built for public purposes. Most of these have transferred to private ownership.
Residents Information
Resident Dolly Fluck, 100, was one of the first to move in. She said: 'I have never been so happy in my life.'
Mrs Fluck has subsequently died but her daughter, Mrs Woodham, has written
"...Dolly was able to stay comfortable in her own home and to die with dignity."
Mrs Lawrenson who also has lived in Osprey Court since it was built gave the following quote:
'I think its marvellous. It's geared for people in my situation. The whole building has been designed for disabled people. So much detail has gone into the design.'
Key Information
Location
Southsea
Local Social Services Authority
Portsmouth City Council
Region
South Central
Year Funded
2006/7
Cost
£12.71m
DH Fund
ECH
Relevant Local Strategy
Portsmouth City Council's Adult Social care department has developed a 'Joint Accommodation Strategy' (JAS) in conjunction with PCC's Housing Services and the local Primary care Trust.
PCC's Housing Strategy 2005-10 had priorities and actions for supported & special housing, which included the development of extra care housing. No specific targets were stated but the ongoing action is to develop multi-tenure extra care accommodation schemes in partnership with housing associations and to replace as much as possible the poor quality existing housing stock.
Useful Local Statistics
Three quarters of the private housing was built before the first world war, which explains the scale of unfitness and disrepair amongst the city's dwellings.
Facilities
Communal Lounge
Manager's office
On site personal care team
24 hour staff presence
Crafts room
Garden/Outside recreation area
Assisted bathing
Guest suite
Buggy store
Key Features
Properties
65 apartments (of which 30 are 1 Bed and 35 are 2 Bed)
Tenure
Social rent (40) and shared ownership (25)
Address
Milton Retirement Village
Warren Avenue
Southsea
Portsmouth
PO4 8QQ
Scheme Location Map
Partners
Housing Provider
Housing 21
Architects
Calfordseaden
Care Provider
Solent Care at Home
Local Social Services Authority
Portsmouth City Council
Developer
Housing 21
Contractor
Mansell PLc