Meadow Court
Worcester, Worcester Community Housing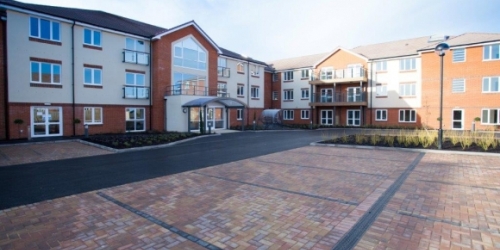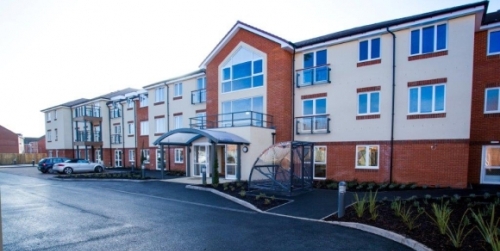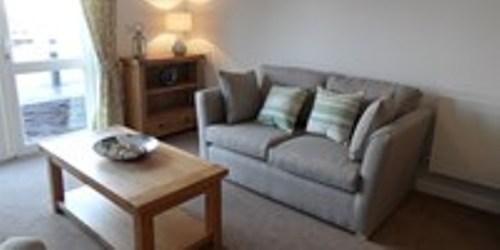 Description of Scheme
The current design will support residents to achieve an optimal quality of life within their homes, taking into consideration their future needs. It also presents an opportunity to provide an outward facing community development that can support the large number of older people living within the local community as well as providing services to this group.
10 Principles of Good Housing within HAPPI
- The new retirement homes should have generous internal space standards, with potential for three habitable rooms and designed to accommodate flexible layouts.
44 of the 57 apartments have 2 bedrooms (3 habitable rooms), the remaining one bedroom apartments are efficiently planned with generous kitchens, en-suite wet rooms and storage. All apartments are larger than the suggested 51sqm for a 1 bedroom apartment and 68sqm for a 2 bedroom apartment, as per the Extra Care Housing Design Guidance, at 63sqm minimum for a 1 bedroom apartment and 69 sqm for a 2 bedroom apartment. All are designed to meet the Design Quality Standards and Lifetime Homes Standards
- Care is taken in the placement, size and detail of windows and generally in design to ensure plenty of natural light, and to allow daylight into circulation spaces.
Window heights and sizes will meet and, where possible, exceed the necessary design requirements, however care has also been taken to provide natural light into apartments and circulation areas with many apartments benefiting from naturally lit single sided circulation spaces with generous windows.
- Layouts maximize natural light and ventilation by avoiding internal corridors and single aspect flats, and apartments have balconies, patios, or terraces with enough space for tables and chairs as well as plants.
Many apartments are on corners with a dual aspect, and a number of apartments have direct access to outside patios. Upper floor balconies to apartments may be added with discretion following discussions with planning officers.
- In the implementation of measures to ensure adaptability, homes are designed to be 'care ready' so that new and emerging technologies, such as telecare and community equipment, can be readily installed.
All apartments have wet rooms with direct entry from the master bedroom to enable future installation of a tracked hoist. All apartments and circulation areas have provision for telecare. Apartments can be adapted to enable assistive equipment to be retrofitted to suit the occupier's needs. Equipment stores will stock the most 'popular' adaptations and ensure fast response to residents changing needs.
- Layouts promote circulation areas as shared spaces that offer connections to the wider context, encouraging interaction, supporting interdependence, and avoiding an 'institutional feel', including the imaginative use of shared balcony access to front doors and thresholds, promoting natural surveillance and providing for 'defensible space'.
There are frequent opportunities along circulation routes for residents to pause and meet each other and to visit meaningful destinations. All dwelling entrances are recessed to encourage personalization of the threshold. The aim will be for an interior design that feels comfortable to residents whilst avoiding an institutional feel.
- In all but the smallest developments, or those very close to existing community facilities, multi-purpose space is available for residents to meet together with facilities designed to support an appropriate range of activities - perhaps serving the wider neighbourhood as a community 'hub', as well as guest rooms for visiting friends and families.
There is a reasonable amount of floor area devoted to rooms and uses to be shared by residents and visitors, the main part of this area is on the ground floor and open to visitors as a community 'hub'. On the upper floors, areas for the sole use of residents and guests have also been included, including lounges with balconies and assisted bathing suites.
- In giving thought to the public realm, design measures ensure that homes engage positively with the street, and that the natural environment is nurtured through the preservation of mature planting, as well as the provision of new trees and hedges, providing wildlife habitats as well as colour, shade and shelter.
The extra care building is set back from the road frontage to respect the development of the adjacent care and housing developments and to use some of the parking and southerly landscape as a buffer to the road and adjacent housing. New trees will be planted to create a wildlife habitat which connects the site with the adjacent Ronkswood Meadow Nature Reserve. The sheltered, enclosed gardens with wandering loops will encourage residents to enjoy outdoor activities including allotments. A yet to be decided piece of public art is to be installed in the car park to the extra care scheme as part of the planning conditions which will provide a focal point for residents and visitors.
- Homes are energy-efficient and well insulated, but also well ventilated and able to avoid overheating by, for example, good passive solar design and the use of native deciduous planting supplemented by external blinds/shutters, easily-operated awnings over balconies, grass roofs and cooling chimneys.
The scheme is designed to Code for Sustainable Homes level 3. Orientation of the dwellings east, west and south ensures passive solar design with very few dwellings being north facing alone. Ventilation will be by means of passive extraction to dwellings and communal areas (aside from those requiring mechanical extraction). Planting will reflect the Local Nature Reserve and existing trees. Heat and power will be provided by a combined heat and power unit which reduces the CO2 emissions for the development and overall bills for residents.
- Adequate storage is available outside the home together with provision for cycles and mobility aids, and that storage inside the home meets the needs of the occupier.
Shared stores are available at all floor levels along with storage within each apartment. A store for mobility scooters is provided at ground floor level. A cycle storage facility will be provided.
- Shared external surfaces such as 'home zones' that give priority to pedestrians rather than cars, and which are proving successful in other countries, become more common, with due regard to the kinds of navigation difficulties that some visually impaired people may experience in such environments.
The development aims to deliver a pedestrian friendly scheme using a range of surfaces accounting for mobility and sight issues of residents, visitors and staff.
Where Is It?
The scheme is within a new development comprising a care home and 100 new homes. The site, which is adjacent to a nature reserve and a private housing estate, lies alongside an access route linking the city centre with the local hospital and is near a small parade of shops.
Key Information
Location
Worcester
Local Social Services Authority
Worcester County Council
Region
West Midlands
Year Funded
2013
Cost
£8.36m
DH Fund
CASSH 1
Proximity
There are 3 bus stops within 200m of the site, and the access road into the development is off the B4636 road with access to the city and motorway network. Nearby facilities to the site include Worcester Royal Hospital, Post Office, convenience stores, fast food outlets, medical centre and pharmacy.
Relevant Local Strategy
Worcestershire Strategic Housing Market Assessment 2012 - Core Output 8 of the SHMA relates to meeting the specialist housing needs of various groups including the counties older residents - http://www.worcestershire.gov.uk/cms/research-and-intelligence/housing/shma.aspx
Worcestershire Extra Care Housing Strategy 2012 - 2026 - Worcestershire County Council along with its District and Borough Council partners has developed a countywide strategy for extra care housing for older and disabled people. The strategy sets out the framework for the future development of extra care housing in Worcestershire.
Ageing Well in Worcestershire Strategy 2012-2017
Living Well with Dementia - a Strategy for Worcestershire 2011-2017
Local Investment Plan
Worcestershire Health and Well-being Board Joint Health & Well-being Strategy 2012-15
Useful Local Statistics
Core Output 8 of the SHMA relates to meeting the specialist housing needs of various groups including the counties older residents and drawing on the 2009 research highlights that;
The rise in households where the head of household is aged over 85 will lead to greater requirements for different forms of supported housing which can meet the needs of elderly residents
Levels of owner occupation amongst older people in Worcestershire are very high at over 80% in the 55-74 age range underlining the importance of planning for all tenures but also the possible role of equity release schemes
Provision of services to frail elderly people and of extra care is at a low level across the County compared with likely demand
The survey of older people revealed a definite interest in extra care housing
An increase in demand for extra care housing and housing with ownership options
The Worcestershire Extra Care Housing Strategy estimates that an additional 4,703 units of extra care housing are required across Worcestershire by 2026. This level of need reflects the growing population of older people in Worcestershire (as outlined above), the majority of them being property owners. It also reflects the desire for people who otherwise could be in care homes, to continue to live in their own homes including extra care housing. The estimated demand for extra care housing within Worcester City is 591.
Care Services
There will be a 24-hour staff presence.
Facilities
Newtown Road has an abundance of facilities including:
a hairdressers,
shop,
reheat restaurant,
laundry,
buggy store,
assisted bathroom,
library & hobby room,
communal lounge,
garden,
greenhouse,
24 hour staff presence,
care and support.
Key Features
Properties
57 apartments. 13 1bed, 44 2bed.
Tenure
45 of the apartments will be for rent and 12 will be for shared ownership.
Address
Meadow Court,
Darwin Avenue,
off Newtown Road,
Worcester,
WR5 1SP
Scheme Location Map
Partners
Housing Provider
Worcester Community Housing
Architects
Castleoak
Local Social Services Authority
Worcester County Council
Developer
Worcester Community Housing
Contractor
Castleoak