Lamaton Park
South Molton, North Devon Homes Ltd.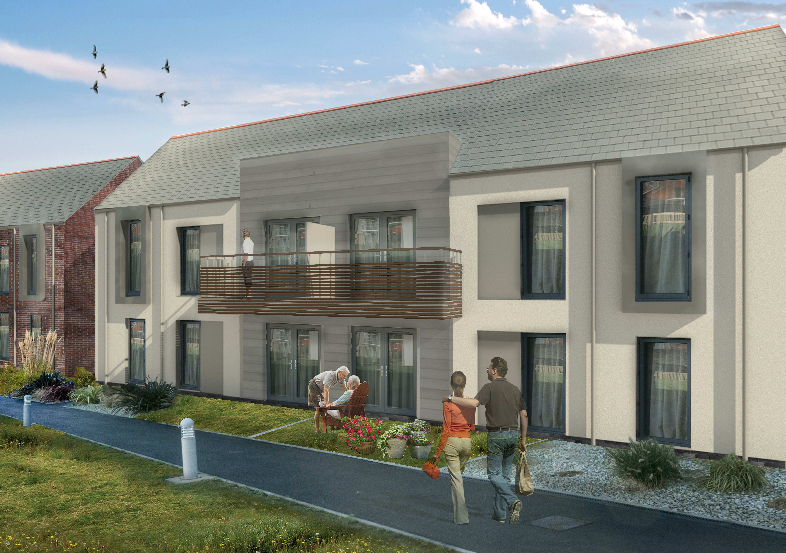 Description of Scheme
Proposals for Lamaton Park includes 31 apartments and 8 bungalows that will replace two existing older sheltered schemes that are no longer fit for purpose.
The scheme as proposed primarily caters for older people who are at least 55 years old. However this does not mean that the scheme as proposed is restrictive as the design of the scheme does provide for flexibility within the building so that other client groups such as learning disabilities and dementia can be catered for at a future date.
The new development will provide additional facility to support and benefit residents across the town including for exercise classes, meeting rooms and day care provision.
The scheme will act as a hub for social activities for older persons where accommodation can also be provided for health surgeries and organised groups. The provision of kitchen facilities will also mean that meals can be prepared and provided on site.
These facilities are particularly needed in the town following the recent closure of the County Council owned / run day care centre at Beech House, South Molton and the expected policy change of the local Health Authority to provide treatment for more elderly in their home environment.
The scheme has also be designed to meet elements of the HAPPI criteria.
Where Is It?
This scheme is situated in South Molton, a rural town located in North Devon. The local neighbourhood comprises a residential estate of 1930's to 1970's houses and bungalows. Lamaton Park is located to the outskirts of the town and is close to local amenities.
Residents Information
Key Information
Location
South Molton
Local Social Services Authority
Devon County Council/ North Devon District Council
Region
National, South West
Year Funded
2014
Cost
Total estimate: £5.6m Affordable Rent units Grant: £900,000 Shared Ownership units Grant: £100,000
DH Fund
CASSH 1
Relevant Local Strategy
Devon County Council has developed a Market Position Statement (attached at Appendix B) that includes for statements in reference to supported living arrangements (page 28) and sheltered housing needs (page 31).
Overall the document supports the provision of accommodation for specific groups and supports working together to build supportive communities and independent individuals.
In many ways the strategic direction for the county is to support where possible older people in their homes which is consistent with our scheme as proposed.
Useful Local Statistics
In addition to the DCC Market Position Statement the Joint Strategic Needs Assessment for South Molton (profile 2007) is attached at Appendix C which highlights an increasing population of over 65's up to 2021.
Facilities
Links with health
Communal Lounge
Kitchen provision
IT suite on site
Accessible gardens
24/7 emergency cover
Meeting rooms
Drop off day care
Exercise area
Scooter storage
Flexible communal space that can be adapted to provide surgery style support for health professionals
Key Features
Properties
31 Apartments
7 1Bed
24 2Bed
12 Bungalows
Tenure
The proposed tenure mix for this scheme is as follows:
30 Affordable Rent Units (10 bungalows and 20 apartments).
5 Shared Ownership (apartments)
8 Market Sale (2 bungalows and 6 apartments)
Address
South Molton
Devon
EX36 4BE
Scheme Location Map
Partners
Housing Provider
North Devon Homes Ltd.
Architects
Trewin Design Partnership
Local Social Services Authority
Devon County Council/ North Devon District Council