Kilbourn House
Newlyn Road, Newcastle-upon-Tyne, Leazes Homes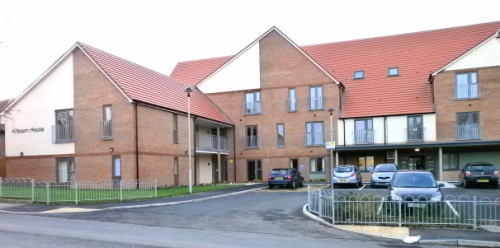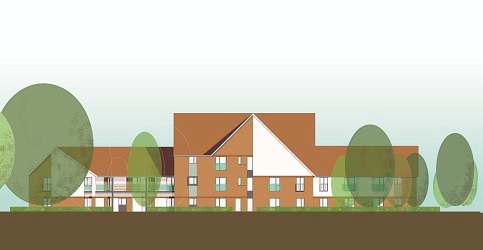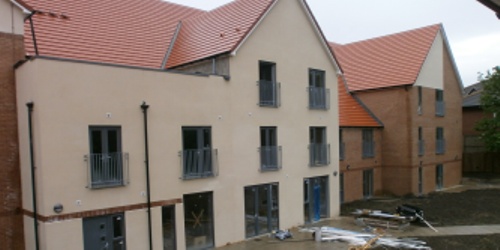 Description of Scheme
Architects assessment against 10 HAPPI components is provided below.
1. 'generous internal standards, with potential for three habitable rooms and designed to accommodate flexible layouts.'
the two bed apartments are 70sqm and the one bed apartments are 55sqm,
all apartments comply with the Habinteg Wheelchair Design Guide,
all properties comply with Lifetime Homes,
all properties exceed the required HQI scores.
Apartments are designed such that the second bedroom can be extended into the living space or main bedroom should the needs of the resident alter in the future; there is also the option for a fully open plan arrangement
2. 'care is taken in the design of homes and shared spaces with the placement, size and detail of windows and to ensure plenty of natural light and to allow daylight into circulation spaces'
living spaces and bedrooms in apartments are designed to benefit from maximum fenestration and views out to private and communal gardens,
windows are sized to comply with the Wheelchair Design Guide to ensure that transoms do not conflict with the sight lines of those in wheelchairs or bed,
long corridors without views are avoided by introducing 'cloister access' to the wings (these areas are shown dashed in yellow), which avoids an institutional feel and assists with way-finding.
3. 'building layouts maximise natural light and ventilation by avoiding internal corridors and single aspect flats, and apartments have balconies, patios or terraces with enough space for table and chairs as well as plants'
each apartment living room has either a private patio area or juliette balconies,
the 'cloister' arrangement allows some apartments to be dual or triple aspect, consequently benefitting from increased lighting
each apartment bedroom has a full height window opening onto a juliette balcony, which allows residents to have window boxes outside each habitable room,
apartments are made as open plan as possible to ensure that light is brought into the entrance lobbies; this is augmented by a shared corridor space that is naturally lit,
the apartment kitchens benefit from views over the circulation areas; this creates a connection between communal and private space and can be particularly beneficial if there are residents suffering from dementia.
4. 'in the implementation of measures to ensure adaptability homes are designed to be 'care ready' so that new and emerging technologies, such as telecare and community equipment can be readily installed'
The M+E specification allows for emerging technologies and telecare facilities within apartments.
5. 'building layouts promote circulation areas as shared spaces that offer connections to the wider context, encouraging interaction, supporting independence and avoiding an institutional feel'
creating windows between apartments and circulation spaces reinforces connections between the residents and avoids an institutional feel. It also brings borrowed light into the apartments from the corridor areas.
creating shared external spaces also promotes connections; this particularly applies to the 'cloister' access to the apartments which allows residents to have their own front door which opens directly to the outside.
6. 'multi-purpose space is available for residents to meet, with facilities designed to support an appropriate range of activities - perhaps serving the wider neighbourhood as a community hub as well as guest rooms for visiting friends and families.'
a residents' lounge, consultation room and communal laundry are provided; these spaces also benefit from access to external space,
a carpet bowls area is provided within the residents lounge area to allow residents to remain active indoors,
a roof terrace is provided with views across the garden and into the adjacent public open space,
a café will be provided and this will be open to the community to use.
7. 'natural environment is nurtured through new trees and hedges and the preservation of mature planting'
existing trees are retained across the site where possible,
new planting areas are shown to create private and public gardens,
allotments included to allow residents to engage in gardening activities.
8. 'homes are energy efficient and well insulated, but also well ventilated and able to avoid overheating.'
the apartments are all designed such that they can be naturally ventilated. This extends into the circulation spaces which also have large openable windows.
9. 'adequate storage is available outside the home together with provision for cycles and mobility aids'
storage is provided within each apartment, as well as shared storage space within the upper floor, which allows for storing larger items,
cycle storage is provided near the front entrance and a scooter store is adjacent to the main door to the apartment building,
space for wheelchair storage is provided at the front entrance to each apartment.
10. 'priority to pedestrians rather than cars'
the defined pedestrian routes that currently exist are retained to provide easy access from local amenities.
Where Is It?
The scheme is based in a Residential Council estate circa 1950 with significant amounts of right to buy.
Key Information
Location
Newlyn Road, Newcastle-upon-Tyne
Local Social Services Authority
Newcastle City Council
Region
North East
Year Funded
2013
Cost
£2,819,278
DH Fund
CASSH 1
Proximity
The following are within nearby to the scheme:
Healthcare facility / GP practice within 500m,
Public house, restaurant, café within 1km,
Local retail outlets within 500m,
Cash point / bank within 500m,
Park within 500m,
Sports centre within 500m,
Bus stop within 500m,
Metro station within 500m to 1 km.
Relevant Local Strategy
There is a target to provide circa 376 extra care housing units within Newcastle City.
Click here to download 'Newcastle an Age Friendly City - Older People's Housing Delivery Plan 2013-2018'
Click here to download a background evidence paper on their 'Older People's Housing Delivery Plan 2013-2018' (Appendix 2)
Care Services
The scheme will support new technologies, telecare within apartments and an onsite care team will be available.
Facilities
The following facilities will be provided:
A large communal lounge with a resident's tea kitchen with direct access to outdoor space. Communal lounge can be portioned off to support activities and events,
A consultation room/quiet room with provision of a hairdressing basin. It is envisaged that a hairdressing service will be provided,
On site care team,
Laundry service,
Café / catering service.
Key Features
Properties
30 apartments, 13 1bed, 17 2bed.
Tenure
All affordable rent.
Address
Newlyn Road,
Kenton,
Newcastle upon Tyne,
NE3 3JS.
Scheme Location Map
Partners
Housing Provider
Leazes Homes
Architects
Jane Darbyshire & David Kendall Ltd.
Care Provider
Comfort Call
Local Social Services Authority
Newcastle City Council
Contractor
Galliford Try